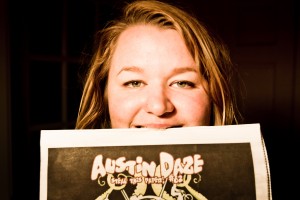 When I hear Emily Gimble play, I can't help but close my eyes and imagine Billy Holliday or Ella       Fitzgerald. Her voice touches you on a spiritual level, it embodies the depth of her soul and her love for the music. Willie Pipkin has this to say about Emily, "She is a rare and special talent. Her voice and soul are as timeless as music itself. I'm so honored to get to play music with her." The accolades don't stop there, Warren Hood says, "Emily is one of the most          talented people I've ever known. She is just as amazing tickling the ivories as she is when she sings."  You've got no excuse to miss out on hearing her amazing talents, she plays all over town with some of the greatest we've got.

AustinDaze: Tell us what it was like growing up in a family of musicians?

Emily Gimble:  It was great, and definitely prepared me for a life of being a musician.  We did lots of   traveling, singing/playing, and goofing around. And, seeing my Grandpa & Dad's love for music helped me develop one too.
I don't really have any elaborate stories about some uber-famous person rocking me on their knee or changing my diapers. Music was just always around. I got used to going to gigs every weekend, meeting different people, listening to lots of music, and     hearing a bunch of elaborate stories about              musicians.

AD: When did you choose the piano as your instrument of choice? Who taught you to play?

EG: Here's the long answer to that question. My   parents enrolled me in Suzuki, playing violin, when    I was four. I stayed with it until I was eight, and told my parents I would rather play fiddle. But, I never   really got around to doing that, because I knew if         I was going to get involved with that instrument I would have to shit or get off the pot. So, I got off the pot, and took up piano, around age 10. I took   lessons from the local piano teacher in Crawford, Becky Ward, for four years. Then there were a few years of strangling a guitar with power chords, and playing as loud as I possibly could, before I took up the piano again at McLennan Community College.
But, the people who taught me the most about playing piano would be my Dad, Grandpa, and Slim Richey. When I first started playing regular gigs, and they would throw me solos song after song, I had to come up with some sequence of notes to fill in the time that was passing by. Being put on the spot will make you want to go home and learn about your instrument…and it still does.

AD: What does the Austin music scene mean to you?
EG: Woooo…it means a lot! It means a community of family, friends, and fans that are crazy about music. I've never been a part of a community filled with so much enthusiasm for music. Even the fans, I love it when you take a break from playing, and start talking to someone who gives you an earful of music history.
AD: What would you say is different about the Austin scene than anywhere else?
EG: As a musician the opportunity to have affordable health care seems pretty different to me. HAAM is amazing! I still have moments of disbelief when          I make an eye appointment or go to the doctor, and I think, "This is too good to be true." What a blessing.
Again, the fans, the lovers of music. People come out to hear music, and have a good time, not to look at their phones, yawn, or talk over the music.
AD: What projects are you involved in now?
EG: Playing with several different ensembles at the moment. I've been playing with Warren Hood and the Goods for the last couple of years, and we've been working on a CD that should be out March-ish. Really excited to get that done, and do some traveling with those guys.
Then there's the Marshall Ford Swing Band, a group of swing-hungry guys. I met Greg Harkins, the guitar player, at my Grandpa's swing camp in Taos, NM in 2006, and we've been playing together ever since. Also hosts one of my favorite rhythm sections in town.
Also, one of my favorite gigs is playing with the Jo's House Band down at Jo's coffee on Congress a   couple times a month. We have a good time trying to keep each other going, after a long weekend.
And, I just started singing and playing with two of my favorite lady musicians in town, Albanie Faletta and Katie Holmes. Trying to do a little "girls rule – and can play the snot out of swing music" thing.
Last but not least, the occasional gig I get to do with my Papa – Johnny Gimble, and my dad – Dick       Gimble. We still do the 4th Thursday at Guero's every month.
AD: Where does your inspiration come from?
EG: That's a big question. In general from people who love, and love what they do.  A large mess of  inspiration comes from the  wonderful musicians I get to play with on a weekly basis. Playing music with your friends and family is inspiring all around.
Then, of course, from all the greats, Ella, Billie, Dinah, Anita O'Day, Thelonious, Aretha, Muddy, Edith Piaf, Oscar Peterson, Duke, Dr. John, Otis Redding, and so forth… and so on.
AD: What's your favorite club to play in town and why?
EG: Well, that depends on the band. With Warren,   I love to play the Continental Club, there's this crazy energy of music history and it gets you going. When I play with the Gimbles, it's Guero's. We've been playing that gig for 5 years, and it feels like we're playing at a family picnic. And, with any band at Momo's it feels like you're jamming in the living room.
AD: How did you get started playing music with Warren Hood and Willie Pipkin?
EG: Willie and I first started playing together in a band called the Phoebe Jeebies, put together by Ms. Phoebe Hunt. We played together once a week before Warren Hood and the Hoodlums at Momo's, for about a year, until we all got busy playing with other bands.
Then at some point Warren started re-working the Hoodlums, and Willie talked him into hiring me. And, I'm so thankful that worked out.
AD: Anything else you want to add?
EG: Love Austin, Love music, Amen.
AD: What's your favorite John Belushi quote?
EG: "Waatahhkaaaaaaahhhhhhhhh yahhhh ahh!"- John Belushi in the SNL skit Samurai Delicatessen
In this article