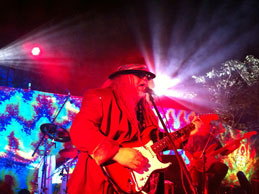 Next door to the Victory Grill and beneath the light of an old Austin moon tower is Kenny Dorham's backyard. The atmosphere is straight from the 70s as the hippie chicks dance in the dirt and the lack of security presence brings out the herbal essence of the night.  Even before the opening act starts, a jam session is underway near the entrance, with guitar and stand up bass. Trim, an offshoot of the Grateful Dead cover band Deadeye opens the show for 7 Walkers. A psychedelic backdrop lights up the stage. The group 7 Walkers is comprised of guitarist Malcolm Welbourne, better known as "Papa Mali," multi-instrumentalist Matt Hubbard, bassist George Porter Jr. of the Meters, and Grateful dead drummer Bill Kreutzmann.
The band starts off the show with Noah Lewis' "Big Railroad Blues", but technical difficulties plague the group as Papa's guitar and vocal microphone immediately go dead. Porter watches impassively as the rhythm section continues to play on like pros, but Papa is noticeably frustrated as Bill tells the crew that they "better get a generator, fast!" The audience is supportive and after a couple of false starts, the band finally stumbles through the tune and moves on to "King Cotton Blues", a story about a rough character with a heart who is at the end of his rope. The composition is the first songwriting collaboration between Robert Hunter & Papa Mali. Matt Hubbard adds some harmonica to the tune and the show is underway!
Porter's bass playing is the glue that holds the band together. The next tune is Dylan's "Positively 4th street" and the crowd begins to sway. Then, George Porter gets everyone dancing with "Let the Good Times Roll" and the beverages get consumed. Now the atmosphere is acquiring a Mardi Gras goodness as a baritone sax is added to the sound. A spacey version of The Grateful Dead's familiar "Bird Song" follows. The raucous "New Orleans Crawl" brings out the Dr. John in us all as Matt Hubbard's piano comes on like a drunken barrelhouse brawl and he also joins the saxophone player on trombone to create a horn section.
The band begins to really shine and hits a groove with "Turn on your Lovelight" as the Hubbard brings out his harmonica again and the familiar bass line blends in with the horns. An instrumental jam of "Mr. Okra" follows as Papa takes a break. For the band's signature song, "7 Walkers", Mali switches from the vintage sunburst Stratocaster to a cherry Gibson SG tuned to open E and Rips on the steel slide.
With "Sugaree", Papa Mali turns over the vocal duties to Porter and focuses on playing like Jerry. Mali's guitar playing really shines here on Garcia's tune and this song, one of the more complicated numbers of the evening, showcases Kruetzmann's drumming. A slow funky version The Dead's "He's gone" follows with the Hunter's classic line "steal your face right off your head". I think the tune morphed into "Bottle up and Go" but I was halfway gone by that time myself. The encore is superb rendition of the Dead's "Warf Rat" and the audience calls for more, but the band calls it a night and goes on their way. I wanted to stay and party all night long. Come back soon guys and sing us a song. Please don't be very long!  M.C. Parsons
In this article