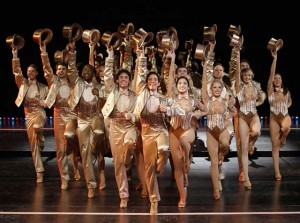 "A Chorus Line," the longest running show in Broadway history, has come to Bass Concert Hall on the UT Campus. If you can make it, you should. The cast is comprised of excellent dancers, singers and actors, and held us enthralled throughout the entire performance. There's a reason this play has survived the years and it's reprisal does not disapoint. The recipient of no less than 9 Tony Awards and Pulitzer Prize for Drama, the topics are as timely now for the "gypsies" that make up our theater world as they were in 1975, when the play was first introduced at the Schubert Theatre in New York.
The story is about the dreams and hopes of 17 dancers auditioning for a chorus line on Broadway. There are only eight slots, and the ensuing 2 hours is a window into the grueling process of an audition, and each dancer's hopes and dreams.
The entire cast plays well off one another, but a few standouts include…nope, can't do it, won't do it. Won't tell you who stood out because the point of a chorus line is the cooperation of the dancers, they were all outstanding, and credit here should be given to the production company, it's choreographers and directors as well. You go see it and pick your favorites.
The play is running through May 16th at Bass Concert Hall. Don't be late, they lock the doors for the first 10 minutes so as not to disturb the patrons. Get your tickets here
In this article