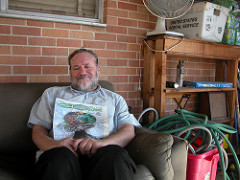 Austin Daze: Our social network has been exploding about this iTunes festival, everyone seems to have their opinions about what's going on but I figured I'd hit up the one person that knows about all things SXSW, and that's you. Can you tell us what's happening? Is it good, is it bad?
Louis Black: You know, it wasn't our idea, they decided to come to town to do this big event, and we would have much rather had the venue to do stuff in, but they made the deal, they came to town, and then we negotiated with them, because we'd rather have something this big be part of SXSW, and not be completely separate from it. So, it's not our ideal kind of programing or our ideal use of that venue, but we are happy, with what we have negotiated.
AD: So you decided with that many people in town you might as well work together?
LB: Well, we thought if this event was going to happen, it would be better for us and for our registrants, if it was part of SXSW, and not completely separate from it. Again it's not the direction I would like to see SXSW go in, but I can live with it, given the fact that our people who listen get into it.
AD: So, the Austin Music Awards is losing one of its key players with Margaret Moser in her final year doing the show, what are your feelings about this?
LB: I think she's the absolute key player for the music awards, so losing her is going to be a drag. We've lost lots of important people over the years, and it'll be tough to replace her, but the awards will keep going, and the show will never have the verve and style that she brings to it. I think it will continue to be a great show, and she herself has said, "bringing in new blood, new young blood never hurts." I've helped run the show for the longest time, including years when Margaret wasn't here, when she was in Hawaii, when I worked with E. A. Srere, her good friend. Then I stopped being involved a few years ago, because, one I was tired, and two I wasn't as cognoscente of the scene as I had been and Margaret stayed very plugged in. So it's going to be a transition, but this is her decision, I wish she'd stay, but if she's gonna go, it'll be good for her and good for the event.
AD: Right, we spoke to her yesterday, she said it would be nice to give the show a facelift, do you have anyone in mind to take her place?
LB: It's too early for that, (laughs) she hasn't left the building yet. She'll probably be very involved in whoever we choose.
AD: Now, this year you're being awarded at the Texas Film Hall of Fame Awards. Can you tell us how you feel about this, and how you feel about the growth of the Austin Film Society?
LB: It's kind of a little bittersweet, one, I feel very flattered and very touched to be honored and it's certainly been an incredible experience. I got to work with extraordinary people and do really amazing things, and I guess I think I deserve the honor, but it's a little weird to be honored at something you started. It's kind of like, you know, did I plan that then? No, in 2001 when Evan Smith and I started to hype the film awards I did not think I would ever be an honoree. On the other hand, it's an honor, there's an enormous number of really great Texas film talents over the last 14 years and I'm honored to be included in that group.
AD: Weren't you involved in the beginning of AFS with Richard Linklater?
LB: The Austin Film Society got started when it was Rick Linklater, Lee Daniels, who is a cinematographer for a lot of his early films, and some other people early on. And they approached me right from the beginning about being a board member. In the earliest days, being a board member just meant signing papers once a year that you had met for their non-profit status. Now, as far as The Chronicle, not just me, but The Chronicle gave Rick and Lee ad space from their very first show on, and so in real terms we supported and helped create the Austin Film Society. But I was a board member for a number of years, where literally all I did was sign paperwork, and after a while they asked us to be more active, and the Film Society expanded what it was doing and began doing more different things. So eventually, I helped turn it into a real board, and then was the first board President.
AD: So it's grown a lot since it's early days?
LB:  It started basically as a way for Rick Linklater to see films on a big screen that he wanted to see. Rick and other people, but they really started it as a way for all these people to see these films they wanted to see on a big screen, the way they're supposed to be seen. So that's what really started it, and then it expanded. At one point Rick called me and a couple other people up and said, federal and state funding for the arts, for film and video making is drying up, let's create the Texas Filmmakers Production Fund. So we did that, and that's given away 1.2 million dollars or something since 96' to film and video makers. At that point he called me up, he says, 'let's get some hangars from the old airport to use as a film studio, and since about 2000 or 2001 that's been going. So yeah, the Film Society has definitely expanded its role and its prominence in the community.
AD: Cool man. So tell me, did you guys make a deal with the devil or something to only have beautiful weather over SXSW? It always seems to rain during the film segment but as soon as the music begins, it starts to clear up.
LB: I have a deal with God, which is, that I only care about the weather ten days every year. I never curse the weather, I never praise the weather. When people say it's a beautiful day, I stay mum. It's only ten days out of the year that I care about the weather. I don't think God's in on this deal with me, I think it's a one sided deal. You know, good weather is so crucial to what South by does, and actually for the first decade for music the weather was spectacular, it was always amazing. There was one year I'll always remember, it started Thursday that year, and it was just pouring, drenching Austin, and then at four in the afternoon the rain stopped, the clouds parted, the sun came out and then it was beautiful for SXSW. Weather's been more uneven in the last decade or so. But yeah, if it is a deal with the devil then I'm happy I made it.
AD: It's good to see a movie on a rainy day so it works out.
LB: Yeah, I don't care that much during film but I do care a lot during music.
AD: We just wanted to add that we're working on re-vamping the Austin Daze website, starting with the "Shots of the Daze," and doing more interviews, and we wanted to let you know that you're someone we respect and admire, we're grateful for your friendship and for talking with us.
LB: Oh I respect and admire you and I treasure your friendship.
AD: I can't wait for our readers to hear your side about this whole iTunes festival.
LB: You know, it's one of those things that we've had to live with for the last few years, where big multi-national corporations come to town and they bring acts that are not really our ideal SXSW acts, and once it happens there's nothing we can do about it. We at least try and make it part of our program so our people can get into it. But it's not strategically the direction we'd like to see things going.
AD: Thank you and congratulations.