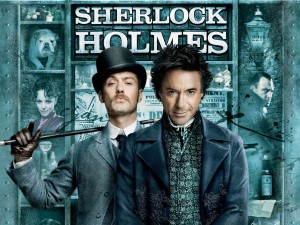 "Sherlock Holmes: A Game of Shadows" is an exercise in style. Either you enjoy Guy Ritchie's irreverent take on the Arthur Conan Doyle classic or you do not. With the first offering in 2009, it was clear this rendering would be quite different than the more staid versions of the past. This Sherlock is decidedly flamboyant, in more ways than one.
In this sequel (hopefully one of many), Robert Downey Jr. as Holmes again employs his method of madness to foil a plot by the nefarious Professor Moriarty, played with sinister calm and confidence by Jared Harris (son of Richard) who seems to delight in making pretty boy Holmes squirm. The word "plot" is used loosely here, as it's really all just an excuse to watch thrilling action sequences, delight in  Downey's wonderfully bizarre and daffy performance, and enjoy the… let's call it camaraderie… between Downey and his leading man, Jude Law.
What was hinted at in the first installment is writ much more large in the sequel. Frankly, Holmes loves Watson so much that his jealousy of the fair fiancée cannot be contained. The Holmes/Watson repartee reflects not only a long-time collaboration of clever detecting, but a weary marriage of sorts between a couple who've grown accustomed to each other's peccadilloes. The humor inherent in this situation is played to sublime perfection by these two larger-than-life movie stars who wink at the audience like the good-natured gents we hope they are.
Downey's demented take on Holmes, the chemistry between our adventuring cohorts, the steampunk look and feel of the era, and a jaw-dropping action sequence in a forest are the film's highlights. The thin plot is the dubious and forgettable string that ties these delights together. It's better than the first, and tons of fun.
4 of 5 stars