There is very little one can say to truly capture the visual splendor of Martin Scorsese's "Hugo." It is a breathtaking masterpiece, at once homage to early cinema innovation, and at the same time a harbinger of the vast possibilities still ahead of us.
"Hugo" is about an orphan boy (Asa Butterfield) who lives within the walls of a train station, winding the clocks so no one will notice that his alcoholic uncle caretaker is no longer around to do the job. His troubles include a nosy, orphan-hating station captain played with pitch-perfect wit by Sacha Baron Cohen, an angry toy shop clerk played with sad subtext by Ben Kingsley in what should be an Oscar nominated performance, a pretty girl with an affinity for literature played with plucky charm by Chloe Grace Moretz, and a mystery to solve which involves an automaton that Hugo and his father (Jude Law) were repairing before his dad's untimely death. The mystery that unfolds leads the story into unexpected territory: the genius of a forgotten early cinema pioneer.
In this tale of artistry and craft, Scorsese uses 3D technology to highlight the themes of the film, rather than cheap gimmickry (as is so often the case with 3D.) The beginning sequence is so breathtaking that the audience literally gasped when the title "HUGO" finally appeared in large letters on the screen. One wonders, if that's just the opening sequence, what can we be in store for next? A lot.
The beauty of the Paris train station circa 1930s and its quaint shops are captured with such grace and charm that one feels transported. The tracking shots inside the inner workings of the clock tower gears and the gritty walls where Hugo resides juxtapose a darker, less colorful world. The detail with which Scorsese handles scale is mind-boggling. For example, the angles of the Eiffel Tower are spatially accurate according to Hugo's position in the tower and the city. The loving care given to every detail in the film is enough to bring tears alone. But it's in Scorsese's homage to the pioneers of cinema that the film really finds its heart. These sequences are shared with such childlike awe and whimsy, that only the coldest of hearts could remain unmoved.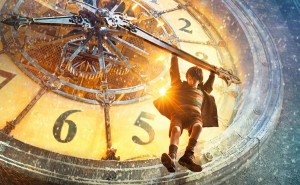 Mr. Scorsese has some fun with the audience, too, by introducing classic scenes from early cinema and (lest we feel superior in our modern sophistication) recreating them within the story itself using current technology to illustrate how effective those scenes still are. We really aren't all that different from audiences who were privileged to experience cinema in its infancy, and thanks to Mr. Scorsese, we are now able to experience some of that awe and wonder today, as if watching a movie for the first time.
I'm a purist. An avid 3D hater. And yet I beseech you to see this film in theaters in 3D. Do not wait for the DVD. It will not be the same film. This movie deserves to be seen as the artist(s) intended, in all its fanciful, ambitious glory.
"Hugo" is a spectacular masterpiece for all ages and forever.
5 of 5 stars