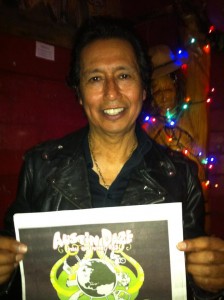 I first heard of Alejandro Escovedo about 11 years ago when someone gave me a framed poster of his former punk rock band called the True Believers (that I still have in my kitchen to this day). His name came up again a few years later while I was talking with my friend Jody, it seemed everyone knew him and loved his music. Skip ahead a few years,          Alejandro was playing a gig after Toni Price at the Continental Club and my ride home fell through, so I stayed and caught the show. I was            instantly drawn to the magic that he wields on stage. That was four years ago, and since that time I have only missed one or two of his shows in Austin. Aside from his live shows, his albums are amazing, each is better than the next. I've had the pleasure of catching some of the material from the new album at his shows, and I think it's going to be his best yet. He's as passionate about music as it comes, and his songwriting skills have the power to just shake you.
AUSTINDAZE:  How long have you been on the scene in Austin?
It was 1980 that I moved to Austin. I played in Austin in late '79/early '80 on tour with Rank and File.  We went to Houston and these friends with this fanzine Contempo Culture gave us some pot to bring to Austin for Lester Bangs.  It never made it, but we did make it to Austin. I fell in love immediately. I always wanted to come back to Texas, I was born in San Antonio.
AD: Austin Music Scene
When I first got there, I just caught the tail end of Townes, Willie playing smaller venues like The Opry House, Shoal Creek Saloon, places like that. I got to see all those guys Jubal Clark and Pat Mears, Lucinda was busking on the Drag, Joe Ely at the Alamo, do you remember the Alamo Hotel? It was right on the corner on 6th, by the main post office          downtown. Lyndon Johnson's brother lived there, there was a restaurant in the basement and this beautiful little bar. This guy Martin, and Bobby Nelson, not Willie's sister, she was a lawyer. They had a bar there that was a listening room, I'd never played in a listening room. In fact the first time I ever sang in public was there, I did a Jimmie Rodgers song. It was just so different back then, there was so much space. I mean when the students would leave in the summertime, the streets were pretty empty. Obviously it's much larger now, more populated, but I think the soul and spirit of Austin holds true, ya know? Even if we have a different skyline now it's still my favorite place to live. I love calling Austin home.
AD: On the Sensitive Boys name
After Real Animal, we found a new bass player, Bobby Daniel, from    Birmingham. I actually met Bobby when I was working with Amy Cook on her record. I loved the way he played, I loved the way he looked, his      attitude, all the references I had in my music, he was aware of. It was just a natural fit. He became a member of the band. We had just been working on Street Songs of Love and I wanted a name for the band,            I wanted it to be after the song Chuck Prophet and I wrote about True    Believers and Green on Red, those guys. The Sensitive Boys is just about all these guys I used to criss-cross around the country with, meet up in rest stops, and gas stations and restaurants and clubs. I thought the band that I have now deserved that name.
Punk Rock Roots
Philosophically I think it influences me, this is also from soul music and the blues, but a vision that the performer is never more important than the audience. There's no line. We are all there to feel something.               The other part of punk rock is to tell the truth, to be      honest. Finding interesting and honest ways to express what you're feeling. It doesn't have anything to do with technicality, or the ability to play, it's just if you can find  something that makes the right sound to     accompany a thought or idea that you want to express to people, then you are absolutely more than welcome to come and do that.
Future of Austin Music
There's all kinds of great bands, lots of great variety, The Ghost Wolves, The Strange Boys, White Denim, I love Ghostland Observatory. There's all kinds of stuff all around.  There's just this whole new generation. Last week we played a benefit at my daughter's school. This boy came up and sang Down In The Bowery and he was unbelievable, incredible. I think the Austin music scene is in good hands.  I'm pretty much on the other end looking back, I can pretty much pass the torch. The young bands are leading the way. Now I get to just really use the tools I've gotten over the years, make the albums I wanna make.  But it's a young man's game. Obviously for me, I am still ready to play music, I've been able to witness a lot of really good bands come out, it's always mutating, its always changing. I love all the young musicians that I've come across. Young bands have it different these days, they don't have to tour and tour to find an audience.  With technology, it's a different thing, but I love some of the music I'm hearing today.
On playing the Continental
I can honestly say the Continental is my favorite club in the whole world. It's like a home, like a family, so when I think of Austin I think of the      Continental. There's other great clubs, no doubt, Cactus Café, especially in the heyday, Antone's when Clifford was running it, it's still a great club. For me I've always been drawn to The Continental Club and everyone that's been involved. They've become very much a family. I love doing  residencies there, I did a long one in the 90's for about a year or so, and now we do Tuesdays whenever we can.  It's just great to see   everyone come out, we have a great time. We're so comfortable in a place like that, it makes me do things, like the Street Sessions on South     Congress, and when we're experimenting with new material in front of an audience.
On Stephen Bruton
I was living on this street, La Casa, down off South Lamar. This           wonderfully fit and beautiful guy used to run by everyday. I was very    suspicious of him, didn't know what his deal was, I kind of thought he was a drug dealer or something. I remember he'd invite me over to       parties, and I wouldn't go cause I wasn't quite sure what was going on over there. When my wife passed away in '91, he's the one who really helped me through all of that, spiritually, emotionally, creatively. He kind of picked me up by the shirt collar and just said, come on, we're gonna go make a record. And he suggested to Waterloo records that we should make a record. That was the first.  Over the years he just became a true brother.  I miss him everyday.  Before he passed we would always talk about making a  secret album, one no one would know about, no record company,nothing. We never got around to that, but we did write a song that was on his last Resentments album, Roselight.  I got to spend time with him in the end. No matter how bad he was feeling, if the guitar would come out, he'd turn into this young boy, his eyes would light up, and he'd be happy to talk about music in any form. I remember I was producing Amy Cook's album, he coached me a lot during that period of time.
Where his music is now.
I feel ready for any challenge.  Having worked with Tony Visconti, who made my favorite records ever, John Cale, obviously, and my favorite band of all times, The Velvet Underground, and of course Stephen      Bruton brought beautiful musicianship and arrangements to my music.  Through all those experiences I've gained confidence and I've learned. It's a good place to be.
Right now we are experimenting with rhythm a lot. One of the things I'm striving towards is people dancing at my gigs. Finding rhythms that will allow the audience to find those moments, like in reggae or R&B where you just have to move. But I still want to tell stories.
New Album and Writing Process
The last three albums I've co-written with other people. Prior to that I did some writing with my brother Javier, some with Steven Barker, I wrote the majority of it on my own. When Real Animal came about, I knew I needed some help on that one. So Chuck Prophet and I joined up and that began a really fruitful songwriting partnership.  This record, I'm  writing a little with Tony Visconti, and the band also.  I'm enjoying that part of it. That's how my songwriting has changed, its more collaborative, which I really enjoy.
We're trying to work on rythyms in a way we haven't before, so hopefully this will be more rhythmic, and maybe a little more raw than the other records.  You never really know, records are always mysteries, you go in with the best intentions, and think you've got it figured out, what you want, but its always mutating. Wanting to be really honest in that moment.
After the Meteor Showers
The idea originally that was in my head, I wanted to write a song kind of like a Velvet Underground song, like I'll Be Your Mirror, or Pale Blue Eyes, and at the time I knew someone who was extremely beautiful in my eyes, I wanted to do a meditation on someone's beauty.          I can't get specific about it, but I can tell you it was about beauty.
On his growing audience
It affects you in the way that you get excited, a little more pumped up, eager to try new things, create music that is both fun and yet gives      people something to take home with them. It's funny, it's coming at a good time for me, I feel good about it. Twenty years ago, I may have been uncomfortable, I don't know that I would have enjoyed it as much. That's how Austin ties into this, and another reason Austin is so great, we've been able to experiment a lot, with different styles, musicians, everything from orchestras to string quartets. David Pulkingham and I play a lot of duet shows. There's been just an abundant wealth of musicians to work with, it's been a lot of fun.
Anything else?
I love your magazine. I'm glad you guys are around.
Favorite John Belushi quote?
"Hamburger, Hamburger, Hamburger"
In this article