OK, A FEW SCENES MADE ME SMILE. AND I'LL ALSO ADMIT THAT MY DESIRE TO OWN A MONKEY JUMPED A FEW NOTCHES. I DO LIKE MONKEYS.
THIS FLICK JUST HAD SO LITTLE GOING ON, NEW THAT IS. JUST THE SCENERY AND GEOGRAPHY CHANGED FROM VEGAS TO BANGKOK. THE SET-UP AND MOTIVATIONS WERE THE SAME. THEY GOT THE CAST TO ALL COME BACK AND RE-DO THE ROLES, BUT IT SEEMS LIKE SLEEPWALKING AS THEY ARE DOING THE SAME THINGS. THAT KIND OF SUCKS IN MY OPINION. THE FIRST ONE WAS GOOD  BECAUSE IT WAS A NE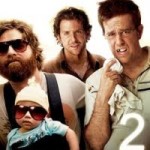 W AND FRESH WAY OF TELLING A TALE. HERE, THEY JUST CHANGED A FEW ELEMENTS AND RETOLD IT. THE FIRST MOVIE IS THE SPOILER HERE.
IF YOU LOVED THE FIRST ONE AND WANT MORE OF THE SAME, THE EXACT SAME,THIS IS FOR YOU. I WAS ULTIMATELY BORED.
THERE ARE FRESH IDEAS HAPPENING EVERYDAY THAT ARE BETTER CANDIDATES FOR THIS MOVIES' PRODUCTION FUNDS.  IF WE LET THIS FLICK MAKE THE MONEY IT WANTS THIS WEEKEND, WE ARE TELLING HOLLYWOOD THAT WE ARE FINE WITH UNINSPIRED, UNORIGINAL FILMS. SO THIS WEEKEND, SEE SOMETHING ELSE. CATCH THIS ON DVD.
I WAS NOT SURPRISED BY THIS. THE UNCREATIVE TITLE LAYS THE FLICK OUT COMPLETELY AHEAD OF TIME. ONE THING THAT I DON'T GET IS WHY THEY HAD A PRESS SCREENING. MOOOOOOOOOOOO-CHING!