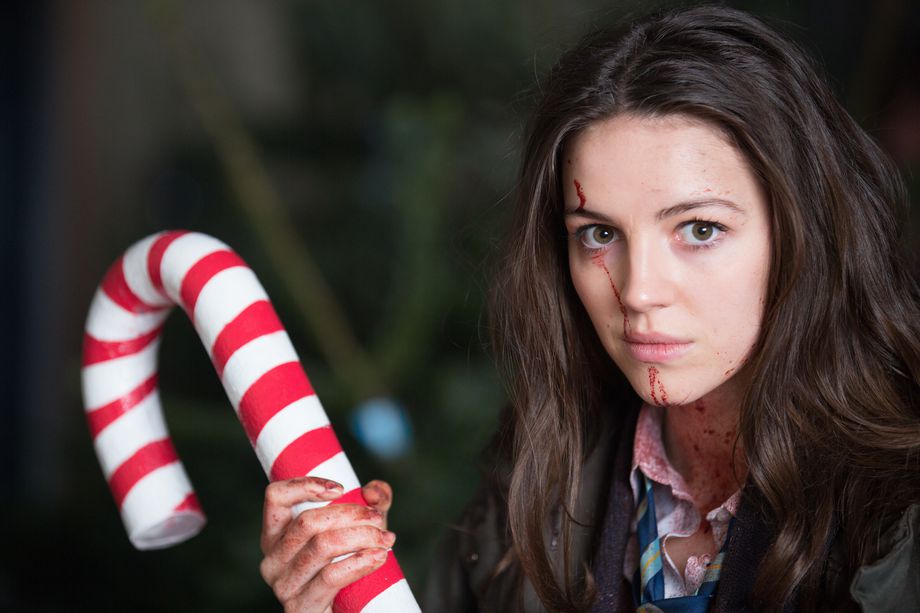 Anna and the Apocalypse was one film premiering at Fantastic Fest that I could not pass up. A Christmas themed high-school musical zombie flick. No promise that it wouldn't be a complete disaster, but I had to see for myself and it did not crash and burn. Scottish writers, Alan McDonald & Ryan McHenry had a vision to blend all of these themes together and with the help of director, John McPhail & the Songwriters Roddy Hart/Tommy Reilly, were able to pull it off fairly well.
Anna and the Apocalypse starts off exactly like any generic high-school film with all of the twee tropes and characters. Anna (Ella Hunt) is the girl with big hopes and dreams, her best friend and secret admirer, John (Malcolm Cumming), and even a sniveling villainous drama director, Savage (Paul Keye from Game of Thrones).
There's a little bit of angst and a lot bit of choreographed numbers at the beginning of the film. Honestly, I wish they had gotten to the zombies just a little bit quicker for my personal taste. The tone changes slowly once reality sets that zombies have taken over and there is even a number when the town loses power about how society has fallen into the throes of technological distractions and social displacement. Nice social commentary sprinkled throughout the film. The best song is arguably a Christmas pageant performance filled with some dirty Christmas themed double entendre's.
It's refreshing to see a strong leading lady that does not require protection from anyone else. The rest of the cast is just lovely as well. The script and direction are tight and so is the music. Even if you don't typically enjoy musicals, which I don't, I think people will still be able to enjoy this one out of the gate. My biggest complaint is I wish the zombie factor or darkness was turned up to an eleven. I didn't feel that Anna and the Apocalypse could fully commit in any direction and that may have had to do with the swiftness and budget for filming, but it never quite "gets there".