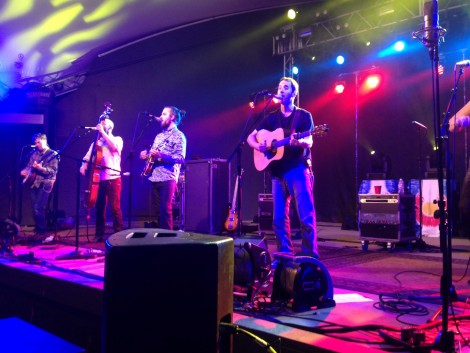 Another great Saturday night of music in Austin was had last night. We started off our night by heading out to Stubb's to see Yonder Mountain String Band play the Waller Creek Amphitheater. Ben Sollee was the warm up act for Yonder Mountain String Band and he was amazing. He took the stage with Jordan Ellis, a percussionist playing a Cajon, a symbol and other smaller percussive instruments. Ben Sollee was equipped with his cello.   I used to be obsessed with Ben's album "Dear Companion" that he made with Daniel Martin Moore, so it was a quite the pleasure to see his cello skills live and in person. His voice sounded great above the well crafted instrumentation. His set was lively, and jaw dropping at times.  Although it was a short opening act, it was a great one.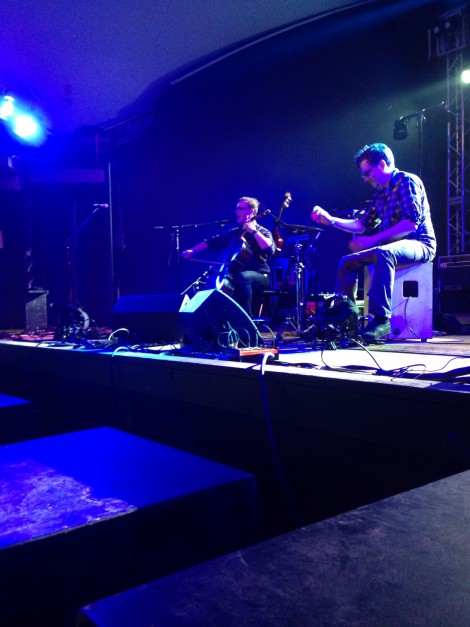 After Ben Sollee, Yonder Mountain String Band headed out across the stage. I had never really heard more than one or two of their songs before going to this show and had never seen them live. They played a mix of progressive and traditional bluegrass songs and had a great familial energy to them. The band consisted of Adam Aijala on guitar, Dave Johnston on banjo, Ben Kaufman on Bass, Allie Kral on the violin, and Jacob Jolliff on the mandolin. They all played very well took turns ripping on their instruments throughout each song. I have to say, I'm always impressed with how fast bluegrass players can strum and fingerpick, but the mandolin player in the band, Jacob Jolliff , was unbelievable. His fingers were moving a lot faster than I could follow as they went up and down the mandolin fret board. Allie Kral was also incredible with her violin. She had some pretty epic moments throughout both of the two sets. Banjo solos always stick out to me and are always the ones that I remember most and Dave Johnston's were no different. Adam Aijala was holding it down on guitar with some awesome bluegrass guitar playing. Ben Kaufman was the backbone of the entire band with his stellar bass playing skill.  He was the heartbeat of the operation.  They all sang really well together and that added to the family aura being presented to the everyone.  It felt like, as they mentioned throughout the set, "homemade bluegrass" performed by a family.  During the encore they snuck in a bluegrass take on Ozzy's "Crazy Train", which was really well done.  They played over two and a half hours (two sets that lasted over an hour each).  It was an awesomely authentic bluegrass gig.
After Yonder Mountain String Band, we switch gears completely and stopped over at the Continental Club to see T Bird and the Breaks play. They were a very high energy, part funk, part hip-hop, part rock and roll group from Austin.  It was a great eclectic mix of genres that just seemed to put a smile on your face from the first song.  They put on a really fun show and had everyone feeling all of the good vibes. T Bird and his band gave off some incredible energy and looked like they were having a lot of fun up there on stage. It was one of the more memorable gigs that I've seen at the Continental Club so far.
In this article