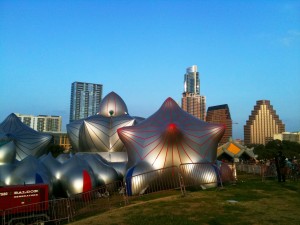 Upon first glance at the Architects of Air Luminarium, I was overcome with childlike feelings of excitement, adventure, wonder, and curiosity. Located on the lawn of the Long Center, the exhibit was creative, shapely, and almost comically complimented Austin's downtown skyline. From a distance, I could see huge, colorful, bubble-like bouncy house objects that were so alluring that I knew I had to go inside and explore. My research said the exhibit was a touring from Nottingham, UK and brings its imaginative presence all over the world.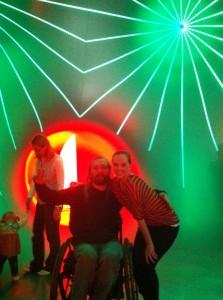 My name is Molly Davis and I am a graduate student at Texas State University studying Recreational Therapy. As students, we are constantly reading about, looking for, and discovering new and intriguing activities that could inspire people with a wide range of disabling conditions to get out and experience life in new and interesting ways. My friend Russ Hartman from "Austin Daze" and I described how the exhibit made us both feel. Russ said, "I felt like we were exploring an alien ship, only the vibe was extremely safe and welcoming. Yogic, tantric, meditative, and almost womb like."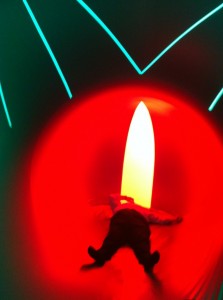 This particular structure, entitled the Mirazozo, visited Austin, TX in mid-January. It featured several huge and small domes that were connected with tunneled walkways that were highly accessible and welcoming to every population's needs! As I entered the door to the Mirazozo, it was as if I was on another planet. I experienced my air (breath) taken away as my eyes took sight of all the amazing colorful shapes and reflections of space. One of the builders was there to greet a small group of us to give us some insight and background on how the structure was built. She encouraged us to relax, take it all in, and experience the beauty and ease of color, sound, and shape. The material s were made from a thin polyvinyl chloride (pvc) cut into shapes that are glued together and inflated with air pressure strong enough to support the structures. I noticed the purposeful beauty in the seams of the thin walls, just thin enough to allow enough sunlight in to add radiance and contrast to the color.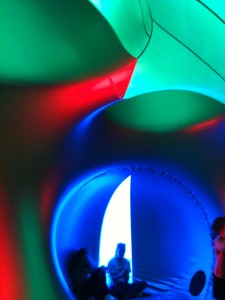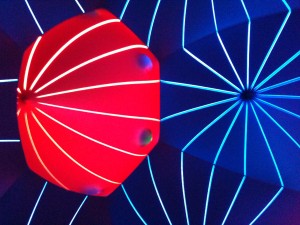 I traveled through the tunnels and gazed into the lights and bright colors. Illuminating reds, greens, blues, yellows, and all of the variations and mixtures of these colors radiated through corners of the giant, balloon-like walls and ceilings…forcing one to look up, down, and all around to take it all in. We started noticing how certain colors seemed to make people act a certain way. For example, in the blue bubbles or cubby-like resting places, people were laying down relaxing, cuddled up by their child or loved one. Listening to the relaxing musical tones, there was a sense of calm and peace. In the red areas of color, I felt myself feel energized and thirsty for more. Children seemed to laugh and play in the most hilarious ways. People of all shapes, sizes, and ages were free to lay, sit, walk, and interact for as long as they felt necessary. I couldn't help but wish that someone would feel the same creative inspirations I was experiencing and bust a move! All the world is a stage right?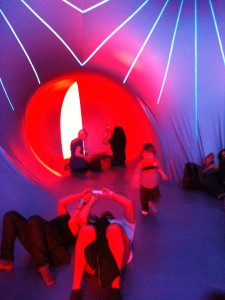 The Architects of Air exhibit was a multi-sensory environment that was truly a gift to Austin. I encourage all to support such wondrous experiences in the future that stimulate the brain with its beauty, the mind with its miraculous colors, and the body with its wonder.
In this article