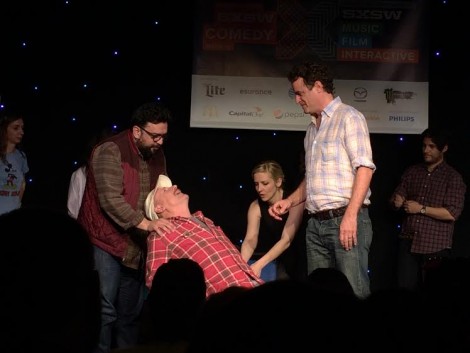 I felt like doing something a little different during the film portion of the festival on this particular evening. I went to check out UCB's (Upright Citizens Brigade) Assscat, an improvisational performance at Esther's Follies. I encountered the kind of crowd filled with drunk bros that muster the courage to try and make their own jokes by blurting them out in hopes of getting recognition from the actual comedians. Not my favorite kind of crowd, but definitely a cool departure from the other things I have done so far.
Matt Besser and Matt Walsh were in attendance as original cast members from the television show, Upright Citizens Brigade.They opened up the show by speaking to a crowd member who happens to be a reality television producer from Singapore and other crowd members that had developed their very own mobile apps. After some interviewing, they were joined on stage by Horatio Sanz, Katie Dippold, Lauren Lapkus, Mary Holland, Shanon O'Neill, and a few other comedians.
The way Assscat works is, someone from the audience yells out a word and a monologist on stage tells a story (usually embarrassing) involving this word. After the short monologue, the rest of the actors on stage play out various improvised skits around said subject.
Most of the time, I was in stitches and appreciated some well deserved fart and boob jokes. I noted that Horatio Sanz kind of seemed shy and hung back a lot during the skits. There was one guy who was jumping in to the limelight left and right. I understand stage etiquette and nobody appreciates a showboat. Either way, it was great to see that the two Matt's haven't lost their touch.  
In this article