When a TV show lasts forty seasons it's because they are doing something right. Drop into random episodes of Austin City Limits and you'll hear an impressive scope of different genres and sounds, yet it all feels handpicked for the same audience of discerning music lovers. The music at the recent Austin City Limits Celebrates 40 Years benefit concert is equally diverse, yet paired well: the slickback blues of Jimmie Vaughan, the ameritexacana roots music of Joe Ely and Robert Earl Keen, old school outlaw from Kris Kristofferson, the Latin funk orchestration of Grupo Fantasma, and the garage-soul of Alabama Shakes all appear to honor the show turning forty.
On the night of the taping the population of the ACL Live studio sits in anticipation. In the side stage area tonight's key players are gathered in a moment of calm before the cameras start rolling. Host Andy Langer reads over his notes, beside him producer Terry Lickona and Jeff Bridges stand side by side talking. Sheryl Crow grins and looks up into the balcony. The music hasn't even started but there's electricity in the air. After quick stage introductions, the flood gates open with four hours of entertainment. Before the first notes you know it's gonna be good, just by the talent assembled on stage for the opening song. Bonnie Raitt, Jimmie Vaughan, Gary Clark Jr., Brittany from the Alabama Shakes, and the Grupo Fantasma Horns deliver on that promise, ripping through a Fabulous Thunderbirds song. As they leave the stage emcee Andy Langer points out most shows end with a song like that, but they made it the opening shot. Did we forget to mention they are backed up by the all-star house band of Lloyd Maines, Rich Brotherton, David Grissom, Glenn Fukunaga, Riley Osbourn, and Tom Van Schaik? After sharing duties with Sheryl Crow on "Me & Bobby McGee", and a solo take on his classic "The Pilgrim, Chapter 33", grey-bearded sage Kris Kristofferson cedes the stage to his grey-bearded country twin Jeff Bridges. Bridges in turn plays a couple of songs penned by the late great Stephen Bruton, paying tribute to his old friend. After a couple of songs from the Alabama Shakes, the first set closes with Gary Clark stretching out on his hit "Bright Lights". In rehearsals, Terry Lickona felt like something was missing, so he asked Gary to stretch the song another minute. The extra time allows Gary to add more firepower to his solo in a climatic first set finale. Andy Langer noted that while growing up, Gary Clark wore out a VHS copy of Stevie Ray Vaughn's Austin City Limits episodes. The circle continues as Clark now has his own guitar licks documented for history on ACL. Second set highlights include a pair of Grupo Fantasma songs that move some audience members to dancing; a triple threat of Jimmie Vaughan, Doyle Bramhall, and Gary Clark together on a blues burner; and Robert Earl Keen with Joe Ely trading verses on "The Road Goes on Forever". The show that started big ends big, with all musicians returning to the stage. The grand finale is Buddy Holly's "Not Fade Away", a Texas anthem for the entire cast and audience to rally around, multiple singers taking verses, multiple guitar players trading licks.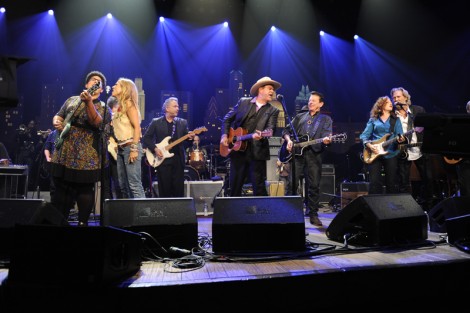 Photo by Scott Newton Courtesy of KLRU-TV
http://acltv.com/2014/06/27/acls-all-star-40th-anniversary/
Calling Austin City Limits a local and national treasure is not PR speak or fan-blogger over enthusiasm; it's for real. Most telling is the respect artists have for Austin City Limits. The traditionally calm cool Johnny Cash was a touch nervous before his historic ACL taping, he knew it was a big show and wanted to get it right. We may be forty years removed from the initial pilot episode, but the core vision of the show remains pure and in place: great music, intimate performances, and attentive audiences; all captured on camera and delivered weekly to the public.
As part of the PBS Fall Arts Festival, ACL Celebrates 40 Years will appear as a two-hour special on PBS on Oct. 3.
In this article