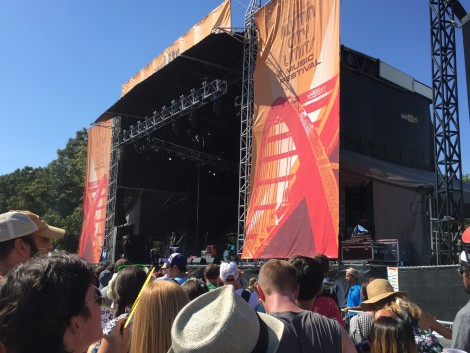 Austin City Limits Day 2.  The madness ensued around a vibrant Zilker Park this past Saturday.   The day had the all of the fixings to be a great one.  The weather was pretty much perfect and there was an excellent lineup in store for festival goers of all tastes in music.
I started my day by wandering over to the opposite end of the park as yesterday's start for my first show at the Honda Stage.  There I saw Father John Misty, Josh Tillman's solo moniker that he took on while making the the transformation from the former Fleet Foxes drummer and solo artist J. Tillman to a satirical, catchy, well written solo songsmith.  His newest album "I Love You Honeybear" is also very high on my "albums of the year" list (If I were to actually keep such a list).  His newest material is so refreshing in a pop music world that's so oversaturated with some serious garbage.  He plays really heavily on what most songwriters take too seriously, the subject of love.  He explains it in the most real, straight forward, and of course, satirical manner.  The great debate is at certain moments when you can't tell for sure if he's being serious or being ironic.  He walks the fine line very well.  I think that he's pretty obviously being sarcastic most of the time.  A great example was when he came out to the crowd during his song, "Bored in the USA", took a fan's smartphone from someone who was filming the song and pretended to take a selfie of himself singing the last chorus of the song. He stopped the song and says, "Shit, I didn't get it. Can we try it again?"  To me, it was a blatant shot at everyone who was on their cell phones the entire gig shooting videos and photos rather than actually taking in the full experience of a live show.  But who really knows?  He could just that tacky.  A couple more of my favorites from the set would have to include, "Chateau Lobby #4", and the finale, "Ideal Husband".  All in all, it was a very sardonic atmosphere surrounding the entire set, but through the heavy dose of sarcasm and irony he was able to create a refreshing take on subjects that are usually taken with almost too much sincerity.
From there I moved onto the Miller Lite Stage to catch Shakey Graves' afternoon set.  He performed one of the most energetic sets I've ever seen from him.  He started things off with a solo version of "Bully's Lament" which was one of the first songs that I ever heard by him. He went on to covered all facets of his material, going straight into "Roll the Bones".  From there he moved into a few songs off of his newest album including "The Perfect Parts", "Family and Genus", "If Not For You", "Dearly Departed".  He even snuck in a live favorite of mine "Where A Boy Once Stood".  The troubadour finished off the electrifying set with a solo version of one of my favorite cuts of his "Late July" with just a guitar and his signature suitcase drum.  He played with a guitarist/bassist, and drummer, "Boo", for most of the set.  Shakey Graves is one of those performers who really seems to always put everything he's got into his music when up there performing.  He's not just making a bunch of noise either.  His use of dynamics is pretty incredible and I would even dare to say unparalleled in performances that I've seen.  At one point he was wailing on his guitar, stopped and hushed the crowd, went back to wailing, then would hush them again.  This was a glimpse at how overall he was able to have great control over the audience and his music throughout the entire set.  He was very humble up there upon entering and exiting the stage and seemed extremely grateful to be granted the opportunity to play to such a large audience at ACL.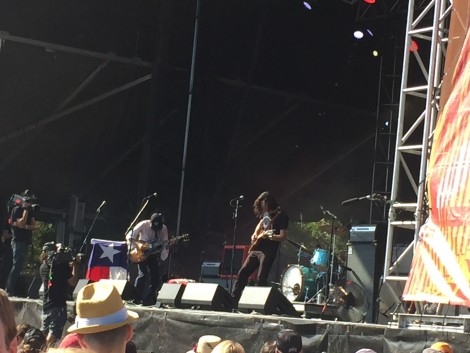 From there I had a bit of a break in the acts that I had planned to check out, so I hung out toward the back of the Samsung Stage area, at the other end of the park, to see Twenty-One Pilots.  They played a really incredible live show.  I've never seen or heard of this band and was really impressed with their stage presence.  They kept the crowd extremely involved throughout the whole show.  The best way for me to describe their music is as an indie pop, with a dash of alternative hip-hop thrown in the mix.  It was entertaining in a live setting, for sure.  At one point the lead singer climbed to the top of the rafters of the Main Stage and continued singing his song.  It looked pretty sketchy and I have to admit, I couldn't see too well from afar, but it left everyone sitting there in awe.  At another point in the final song, he and his bandmate went out into the audience and stood on platforms held up in the crowd and played a final drum solo. It was a really cool show to see, especially since it was so unexpected for me.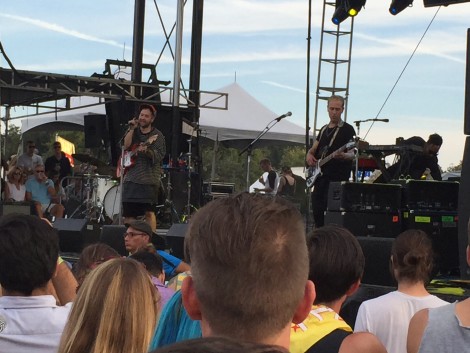 From there I saw glimpses of Unknown Mortal Orchestra, who's latest album is amazing.  The indie rock outfit signed to Jagjaguwar was definitely a highlight for me.  They really killed it in a live setting especially since they were on a stage that was so prone to getting drowned out by the larger ones. Highlight from them was "Multi-Love".
Next up was Jose Gonzalez who played a crazy intimate set with a chaotic and loud atmosphere.  He had a band to back him playing mostly acoustic instruments.  He was playing his solo material and snuck in some material from his band, Junip.  My favorite song of the set was "Line of Fire" which was done solo and completely acoustic without bandmates.  It was pretty amazing.  He included his cover of Massive Attack's "Teardrop" and ended with the popular "Heartbeats" acoustic cover.  It was a really incredible set and great to see that such quiet music with so much depth could be played in a festival setting like that.
From there I saw TV On The Radio, who had one of the biggest side stage crowds that I've ever seen.  They were really amazing to see in such a large atmosphere like Zilker Park.  Although the sound wasn't as good as the ACL taping that we saw earlier this year, the energy being given off by them and reciprocated by the crowd was really cool.  They played music from all ends of their career from "Happy Idiot" to "DLZ" to "Wolf Like Me" to their finale and crowd favorite, "Staring At The Sun".  TVOTR has had two amazing shows that I've had the privilege of bearing witness to and they were both amazing.  They're a really great live band.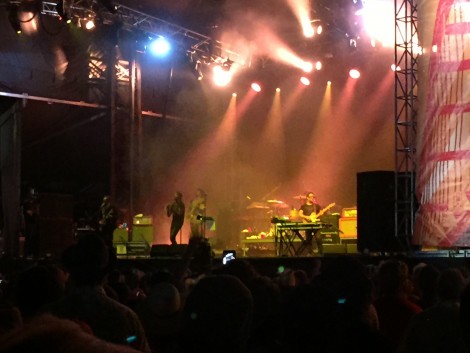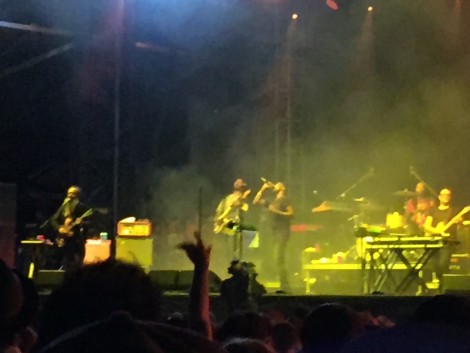 From TV on the Radio, I had to pick a headline show.  Both artists are not artists that I would normally be inclined to see, so it was a tough choice.  It was between deadmau5 and Drake.  Since I saw most of Disclosure (UK electronic band) the night before, I decided to go with Drake.  Let me start off by saying that Drake is an immensely talented individual who has the potential to make great rap music.  Coming from a bit of a hip hop head, I can even admit that he has good cadence and flow, he can sing, he writes extremely catchy melodies.  The beef that I have with Drake is that he doesn't use all of that to create music that has substance.  He seems to sell out, in my opinion, to "pop-rap" that you can hear all over every turn of a radio dial.  He's definitely better than some other mainstream rappers, but he doesn't seem to say something anything that's really insightful in a non-dramatic.  His music (for the most part) doesn't appeal to me or say anything worth listening back to. Sure, he has a line here and there that will stick with me and that I can get behind, but for the most part it's just fluff.  He did give off some seriously hype and energy though.  He fired up the crowd with what they wanted to hear.  How much more could the music industry ask for?  I really do wish that I had counted the number of times that he mentioned that he loved Austin.  End rant.  All in all though, for the portion of the set that I stayed for, he did give the festival an entertaining headlining set, key word entertaining.
Lastly, I have to make sure that I comment on all of the great food at ACL.  This festival has one of the best food selections of any music festival that I've ever been to.  It's all local eats from great restaurants around town. Where else can you get a Freebird burrito for lunch and East Side King for dinner at a music festival?
A review of my final day at ACL is on the way…