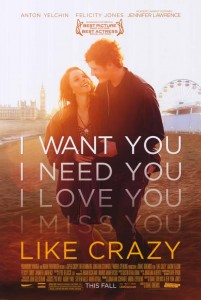 Falling in mutual, unrestrained, like-crazy love feels like falling into a soft-cotton cloud of bliss. The magic of not only being accepted, but cherished and adored… no other experience in life can touch it. It feels as though nothing can penetrate that "us-ness".  Every moment is a secret. No one else knows. You've found the key.
"Like Crazy," directed by Drake Doremus, captures something fleeting and indefinable with dream-like specificity. Every moment is like a cherished postcard. The point-of-view angles, the colors (whites and grays and pale blues like early morning), and the spontaneous performances of the two winsome leads (Felicity Jones and Anton Yelchin) capture intimacy in a way perhaps no other film has. We fall in love right along with Jacob and Anna. The film takes you to that place, not with cheesy rom-com cliché, overwrought plot machinations, or arty love scenes. Rather, we spend time with them and see in each character what the other sees – their beauty, humor, talent, quirks, flaws. It feels real and it creates a bond with the audience.
That's what "Like Crazy" does right.
The story involves a young couple who meet in college, fall in love, but then are separated by circumstance, namely that she is in the U.S. on a student visa from England. In a moment of romantic idealism, she thwarts the law and does not go home when her visa expires. This violation later heaps complications on the young couple as she is deported and banned from returning. His successful furniture design company isn't the sort of thing one can simply uproot elsewhere. She becomes a journalist in London. They are successful, but apart. The times they manage to spend together become fraught with insecurities and resentments.
I remained involved through much of this. It was when the pair each took lovers that my bond with them began to fray. Jacob takes up with his beautiful assistant Samantha (Jennifer Lawrence) and Anna takes up with her neighbor Simon (Charlie Bewley).
Samantha loves Jacob. She's there for him. They have fun together, it seems. They sleep together. The sex seems good. She's dedicated to his business and caring toward him in every conceivable way.
Same with Simon. He's good to Anna. They get along, they have sex, they share things in common. He wants to marry her.
Sure, Jacob and Anna pine for one another from across an ocean. But they USE the people who are near them to numb the loneliness. These people are innocent in the train-wreck that is Jacob and Anna's situation, but they most certainly are hurt by it – not once, but twice!
As the film wore on, I began to think and feel differently about the two leads. They are educated, have means, live in cool apartments, have creative jobs, have supportive, hip parents, and they both have someone who truly loves them right there, present and available.
Through the ever-increasing weepy piano music, I began to think: What I would give to have their problems.
There can be no doubt that there is true beauty in the performances, the cinematography, the general aesthetic of the film. And it captures the essence of falling in (and out of) love with a wisdom and complexity rarely seen on film. But as their story came to its bittersweet end, I too, had fallen out of love.
3.5 of 5 stars