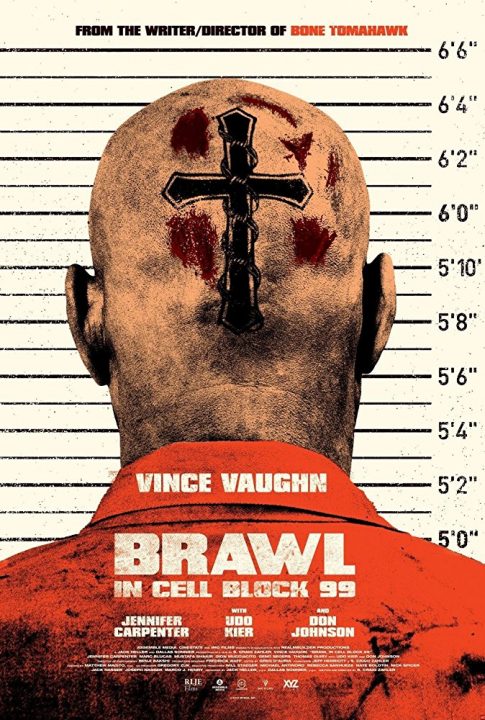 This has to be the crowning achievement of Vince Vaughn's work. Once believed to be a likeable comedic one trick pony, he showed the world his dramatic chops in the 2nd season of True Detective (2015). I remember seeing him in Return to Paradise (1998) and thinking he was super underrated as a dramatic actor. Brawl in Cell Block 99 is beautifully brutal and does not ask for forgiveness at any point.
Bradley (not Brad) Thomas (Vince Vaughn), a blue-collar sort, finds himself constantly behind the eight-ball. At the beginning of the flim, he loses his job working as a tow driver. His wife, Lauren (Jennifer Carpenter notably from Dexter) has been unfaithful, and the two of them live in a shitty house in a shitty neighborhood. After an explosive scene, reminiscent of the bonus round in Street Figher II, Bradley takes out his angers at Lauren on her Mitsubishi Eclipse. Afterwards coming inside and calmly explaining to Lauren about failures and missteps by attempting to pick the correct bottle at the gas-station to put cream in his coffee instead of the skim-milk. Bradley puts it, "The law of averages would suggest that at least some of the time, I'd get the cream…". An analogy to show he's tired of skim-milk selections and he will do whatever it takes to get the cream and for them to try again to have a baby, which could potentially save their failing marriage. Bradley goes to work for his pal on drug runs which proves to be lucrative work. I don't have to explain that Bradley ends up in jail, it's fairly evident from the title. However, I love that Writer/Director S. Craig Zahler (Bone Tomahawk) took his time in setting up the story. We get almost half-way through the film before Bradley ends up behind bars for a botched job and the drug dealer that was wronged has his own plans for him.
Besides the brutal violence, calculated and sweet revenge, the sound editing is righteous. From the soul music throughout the film, no matter who is listening to the actual use of sound and particularly footsteps is harrowing. Vince Vaughn is a big dude,  which is known, but there is constant footstep sound effects throughout which really gives you the distinct impression that this guy leaves a heavy print. Don Jonhnson as the revolver toting cigar smoking warden is stereotypical and also perfect. I want to see everything Zahler does because I love it all. No holding back and pulls greatness out of his leads. If you haven't seen Bone Tomahawk, put that in line after you get to this one.