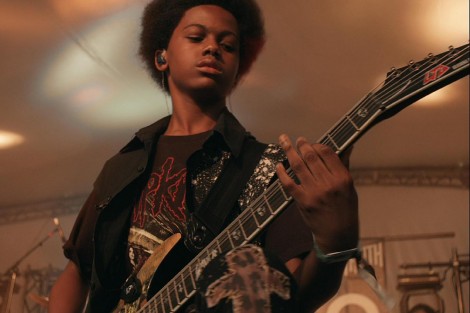 I was sold on this documentary when I read that it was about a metal band consisting of three African American 8th graders. Their stardom was born after a youtube video went viral of the three jamming out on the streets of New York. Malcolm Brickhouse (guitars/vocals), Alec Atkins (bass), and Jarad Dawkins (drums/backup vocals) make up this juvenile power trio named, Unlocking the Truth.
Malcolm, the front man, is definitely the most talented in the group. He is definitely a monster on the guitar and with more years, he could be infinitely talented and start burning guitars on stage or playing with his teeth. He is also easily the most difficult and immature of the bunch, but he is outspoken and seems compelled to continue on and make music no matter what anyone thinks. Malcolm also sings (not well), but I was thinking, there are plenty of metal bands without vocals, but this was important to Sony for marketing.
The documentary chronicles the three from their infancy, as a band, (although they are young) all the way up to recording their first music video and recorded single. They struck a record deal with Sony for 1.8 million before they ever had anything recorded. Their manager, Alan Sacks, who brought up The Jonas Brothers and had a part in the creation of a little television show called, Welcome Back Kotter, has more patience than a Buddhist monk (he does meditate in the film). Sacks helped seal the deal with Sony although it seems like he thought these kids would be as focused as the Jonas brothers.
The documentary also explores how difficult and stressful it must be for kids that young to have the responsibility of transforming into a well groomed and marketable band, especially for Sony's standards. It doesn't help that the company is run by a bunch of rich white people, who all seem to have an opinion about what's right for the band.
You can definitely tell from many scenes that the band does not seem to grasp how fortunate and lucky they are to have the music biz cushion and their veteran manager, which makes sense because they are teenagers that want to be able to act as teenagers, rightfully so. They'll have to grow up pretty quickly if they continue down the path of stardom.
There were some exploitative references coming from the film, especially because they are African Americans that are not fitting the stereotype by not being immersed in the hip-hop community. There are notions that Sony and their manager are just in it for the money (of course they are). I'd like to know how the band does in the future and I hope that their egos can stay in check and they can minimize spoiled behaviors.