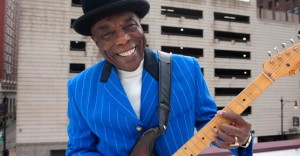 Any discussion of Buddy Guy invariably involves a recitation of his colossal musical resume and hard-earned accolades. He's a Rock and Roll Hall of Fame inductee, a chief guitar influence to rock titans like Hendrix, Clapton, Beck, and Vaughan, a pioneer of Chicago's fabled West Side sound, and a living link to that city's halcyon days of electric blues. Buddy has received 23 W.C. Handy Blues Awards (the most any artist has received), the Billboard Magazine Century Award for distinguished artistic achievement, and the Presidential National Medal of Arts. At the age of 72, he appeared on the cover of Rolling Stone for the first time, as part of the magazine's "100 Greatest Guitar Songs" package (his cataclysmic 1961 recording of "Stone Crazy" made the list).
Yet despite this long list of achievements, Buddy Guy and his music remain as vital as ever. Just this year, Buddy won his sixth Grammy at the 53rd Annual Grammy Awards! His most current release, Living Proof, won the Grammy for Contemporary Blues Album.
Michael Williams, son of the late Texas Blues Legend Junior Medlow Williams, is one of the few guitarists today who can claim by legacy to be born in the blues. Michael draws upon the influences of Junior Medlow, Stevie Ray Vaughan, and other blues-guitar legends like Muddy Waters, Albert King, B.B. King, Jimi Hendrix, and of course Buddy Guy. Yet he has blended his own rich, signature-tone through mastery or traditional blues, a dynamic voice, soulful songwriting, blistering licks, and very intense performance energy. Supporting Michael is a powerful trio of very accomplished musicians, all of whom are well recognized in their own right –Ryan Shea Smith on keyboard, Jeff Leonard on bass, and Darin Watkins. Together with Michael, this powerful quartet is attracting major attention with their unique blend of blues-rock and unforgettable live performances.
Tickets: $19.50-$39.50
In this article