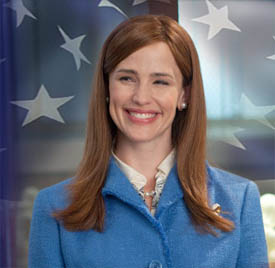 The satirical comedy "Butter" screened at the 2011 Austin Film Festival to raucous laughter and exuberant applause. I was amongst those laughing out loud in giddy delight at the ballsy political incorrectness of it all. Its unabashedly R-rated sensibilities add to the feeling that the whole thing might ride off the rails at any moment, and sometimes it does go too far with mean-spirited jabs. But for the most part, the film is consistently funny.
Jennifer Garner plays the strident and wholly unlikeable Laura Pickler with hilarious conviction. She's the wife of the town's butter carving champion who gave admiring fans such works of genius as the life-sized Last Supper (sculpted entirely out of butter) and other remarkably intricate displays of butter carving prowess. But just as she's sure they can parlay this notoriety into a bid for political office, the competition committee decides that her hubby (Ty Burrell) has won too many years in a row and should step aside to give others a chance. He humbly accepts this as a fair and inevitable turn of events, but plucky Mrs. Pickler decides she'll take up carving herself thereby ensuring the Pickler name remains in the spotlight.
Across town in a less affluent neighborhood, a nice couple (Alicia Silverstone and Rob Corddry) adopt an adorable African-American girl named Destiny who's been shuffled from foster home to foster home. Destiny (played with charm and intelligence by Yara Shahidi) has a healthy cynicism toward well-meaning white people, but she settles in comfortably. One day she happens to catch Mr. Pickler's carving exhibit and is inspired to make the unlikely decision to give this "rednecky" (as her adoptive mother puts it) hobby a whirl.
This pits underdog-orphan Destiny against she-has-it-all Laura Pickler who, in the face of possibly losing the competition, proclaims that it's not her fault she's pretty, rich and white.
The political metaphor is obvious and audiences won't have a hard time figuring out who represents who. I suppose some ardent Red Staters will take offense at the depiction of you-know-who as a desperate, attention-grubbing hack, but as the writer of the film (Jason Micallef) pointed out in the Q&A at AFF, it's nearly impossible to write parody that lives up to the absurdity of you-know-who in real life.
Throw into the mix an angry local prostitute named Brooke Swinkowski (Olivia Wilde) who hates Laura Pickler's guts so much that she enters the contest just to give her all kinds of hell and public humiliation. The character's motivation is completely contrived, but it doesn't matter a whit. She's so wildly inappropriate and so single-minded in her task to take Laura down, that it's impossible not to root for her.
Think of Tracy Flick in Alexander Payne's "Election" (1999) and you'll have some idea of how much fun it is to hate Laura Pickler.
Hugh Jackman has a couple of brief scenes in which he plays a cowboy/car salesman ex-boyfriend of Laura's that inadvertently falls into her trap of manipulation and deceit. He makes the most of his few minutes onscreen and seems to have a lot of fun doing so.
It all culminates in the state's big carving competition and you can probably guess how it turns out.
There is a ham-fisted attempt to interject some sentimentality toward the end of the film, which comes off as forced and tonally incongruous. In general, though, nothing in this film is particularly subtle. It's safe to say, "Butter" lays it all on a bit thick.
If you like broad political satire, you'll love this movie.
3.5 of 5 stars