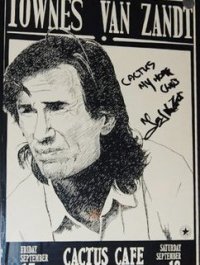 Cactus Cafe Waiting Around to Die

The bureaucracy and decision making at UT can be a funny thing. When UT hired a new general manager and a program director for music radio station KUT, they chose people without experience in running a music-centric radio station like KUT, instead choosing people with backgrounds in news radio. The result? Local music programming severely axed at KUT, sparking public outcry.
Another funny thing is Austin's iconic Cactus Café. The folks over at UT have placed the fate of the Cactus Café, a legendary music venue and cultural institution with a world wide reputation, in the hands of the Texas Union directors, people mostly concerned with cheap bowling and foosball tables.
As you probably know by now, the Texas Union recently decided to shut down the Cactus Café, and discontinue all Informal Classes. Both are community traditions that go back to the 1970s. According to Andy Smith, the executive director of University Unions, the purpose is to save $122,000 annually.
Juan Gonzalez, vice president of student affairs, said "while the students understand the loss, they also understand there are higher priorities, and to direct services to students, I think, is the higher calling."  Yes, Andy and Juan are leaders who understand the higher priorities of the Texas Union's glow-in-the-dark bowling. Why provide education and life enrichment through Informal Classes when there is the inspirational higher calling of air hockey tables? True, the Cactus has launched the careers of many musicians, and the Austin economy benefits from their success, but once the Cactus is removed, and there is more convenient access to a Taco Bell, just think how that will inspire and benefit Austin's economy. Higher calling indeed!
To Mr. Smith and Mr. Gonzalez, I apologize for the weak attempt at ironic sarcasm, watching too much of the Daily Show has worn off on me. But really guys, you had to see this reaction coming. Faster than you can say "Tea Party", protest has sprung up via four different "Save the Cactus" Facebook groups, the largest one adding 5,700 members in a day (and 22,000 in a week!). Quite impressive for a venue that only holds 153 people.
There are several reasonable ways to keep the Cactus alive. The only thing unreasonable is that no options were explored before pulling the plug.
Here's some ideas to save the Cactus:
UT does culture right when they want to. UT deserves big credit for funding the Blanton Museum and Ransom Center with multi-million dollar budgets. Even though neither makes a profit, and both mainly draw crowds of non-students, UT still sees their benefit. The first thing to do is to have UT look at the Cactus Café in the same way: as an important cultural asset to the community.
The Cactus could become part of Texas Performing Arts, the group responsible for presenting music in every other UT music venue (such as the Bass Concert Hall and Hogg Auditorium). Booking can still be handled by Griff at the Cactus. Texas Performing Arts offers resources not available from the Texas Union. The Cactus would become more profitable and thrive under the support of Texas Performing Arts.
Tweak the business model and find donors to cover temporary budget shortfalls. The Cactus is a non-profit, so do a public radio style pledge drive. The donors will be "members" for the year, receiving thank-you gifts (like Cactus Café posters), and get a $2 discount on tickets. Of the 5,700 (and growing) Facebook supporters, it would take just 1000 people to donate $122 each. Austin has philanthropists annually giving large amounts to the arts, UT has wealthy alumni, and the musicians in town will gladly support. With a big potential donor pool, finding money for the Cactus will be no problem.
Informal Classes also offer a simple fix: raise the average price of each class by a measly $12. The extra twelve bucks from the 10,000 people enrolled in informal classes would easily raise $120,000. If you give people the choice of a) not learning anything with informal classes cancelled forever; or b) still take the classes but have an extra cost equal to two Big Mac combo meals; people will gladly fork over twelve bucks.
The Cactus can update their web presence to attract more students and increase overall attendance. The Cactus website provided by the Texas Union is minimal, even by web standards of 10 years ago. An email mailing list, a calendar with descriptions of bands, and posting set times would all help. Selling advance tickets online for all shows would draw bigger crowds. When tickets are available at the door only, some people don't try to come, thinking the show will be sold out. See ticketweb.com and brownpapertickets.com for examples of inexpensive ticketing services.
Try all of the above, or even just one, for a year and see what happens. Do something, anything, but don't leave us like the Townes song, just waiting around to die.
What else can help save the Cactus? Let's hear your thoughts and ideas…
The Save the Cactus Café Facebook group can be found here: http://ow.ly/12ojw
Please view Save the Cactus website here: http://www.savethecactuscafe.org/
In this article