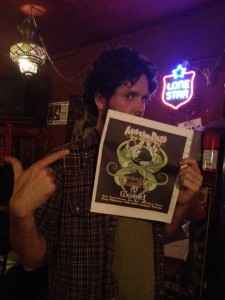 The Sahara Lounge is the new club in town. It is located in the spot that went by the name of TC's, 1413 Webberville Rd. 78721 (512) 927-0700. Some things have changed, but not  much. On any given night you could find yourself at the bar next to the guitar player that left you in shreds the night before, or the guy that plays drums in three of your favorite bands. There is a reason so many musicians flock to this watering hole, and it's not because of the sexy Austin Daze sign. (That's good enough reason for me!) The reason they hang out there is because it's a real place, ya know? Topaz is a real musician who is doing it right, trying to get the club up and going. He's done a lot of work on the inside and the outside, making it a comfortable place for everyone to hang out. He built a new doorway to a beer garden in the back and new bathrooms, while still maintaining the original vibe. Austin is lucky to have Topaz, a real Austin musician,           invested in preserving the music scene and creating a cool environment for all of us to take part in. He's one of us, he's a hard working musician keeping the scene alive in East Austin.
AustinDaze:  First things first, let's clear the air. Let's get some      history. Tell me how you came to acquire the former TC's.
T: A friend told me TC's was for sale and I was already working with my mother and her husband looking for a place to start a music venue.             I suggested we check it out – so we went and talked to TC to find out what the deal was, and he said he was ready to retire.  We decided to go for it.
AD: Tell us the process of re-opening the club and how the name, The Sahara came to be.
T: It was a ridiculous amount of work! The name came about because we serve West African BBQ and I thought it also lent itself to the seedy loungy vibe of the place.
AD: What have you changed and what has stayed the same?
T: We now have a full bar and a food trailer. We have a more diverse music calendar.  We still have blues on Mondays but we also have African music on Saturdays and Psych Rock on Wednesdays.
AD: I'm interested to know what it's like for a musician to transition to being a club owner.
T: Well I'm still a musician — I'm just a lot busier since now I'm doing both!
AD: How are you using what you have learned over the years playing in different clubs to run a club yourself?

T: Don't really know except for the fact that I've definitely spent a lot of time in music venues!

AD: One of the biggest complaints I hear from musicians is how they are treated by club owners.  How do you see things now that you are on both sides of the fence?
T: From my experience, bars that treat their musicians with honesty and respect are the ones that seem to be successful and have longevity.
AD: What does East Austin mean to you? How do you feel about the changes in East Austin and how are you navigating as a new business owner there?
T: East Austin is home to me and has been since I moved back. Change is inevitable but our goal at Sahara is to blend the new and the old. We're not a flashy new hipster bar, we're just trying to carry on a tradition of live music in East Austin which has mostly been forgotten. There are all these new bars opening on the East Side and I can count on one hand how many have live music. East Austin used to have a flourishing music scene, and most of the musicians I know live on the East Side, so I hope we can bring it back!
AD: You play with everyone, how do you plan to bring everyone back to the Sahara Lounge?
T: Well, we seem to have no problem getting the musicians in! I'm just hoping the crowds follow. Monday nights with The Moeller Brothers we've had an amazing list of great musicians come down and sit in. I'm really looking forward to December 1st we have Ocote Soul and Hardproof Afrobeat.
AD: I've heard a rumor that the old AustinDaze sign is in a new spot at the Sahara Lounge? True?
T: Yep. It looks great!
AD: How do you balance being a club owner and a musician?
T: I sleep less.
AD: Anything else, Carlito? (Anyone else call you that?)
T: No prisoners on this one, Russ, just corpses.
In this article