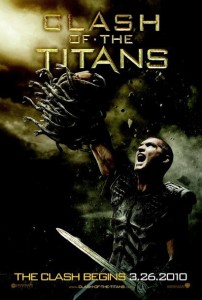 THE TRUTH… THE 3D WAS LAUGHABLY BAD. THEY DID NOT SHOOT THIS IN 3D. IT WAS ADDED AFTER THE FACT.
REALLY BAD FOLKS… AVATAR SET THE STANDARD TOO HIGH WITH 3D. THE EFFECTS WERE ADDED TO THIS FILM IN ORDER TO DRIVE PEOPLE TO THE THEATER. THEY (THE EFFECTS) CAUSED MULTIPLE WALKOUTS AND I TOOK MY GLASSES OFF MIDWAY THROUGH. THANK GOD,  I   WAS IN GOOD COMPANY.
THE STORY. GOD. WTF? WERE THE WRITERS, DIRECTOR AND WHOLE CREW ON CRACK? THIS WAS NOT A REMAKE AT ALL. DO NOT BE FOOLED'. THE ORIGINAL WAS A LOVE STORY, A COMING OF AGE ADVENTURE. THIS WAS NOT THAT AT ALL. THE FILM MAKERS (AND THAT IS GENEROUS) JUST WANTED TO REUSE THE TITLE AND SOME OF THE SCENES. MY RECOMMENDATION IS TO GO TO I LUV VIDEO OR VULCAN AND GRAB THE ORIGINAL. SURE, IT IS CHEESY, BUT AT LEAST IT HAS FEEL.  LIAM NEESON AND RALPH FIENNES AS ZEUS AND HADES WERE THE ONLY GOOD THING HERE. I HOPE THEY WERE PAID VERY WELL. SAVE YOUR MONEY. DO NOT SEE     THIS…
IS  3D GOING TO LOWER OUR  WATCHABLE STANDARDS?
In this article