If you have ever attended a good show in this town, this is the guy who deserves your praise. He can be credited as one of the people responsible for securing Austin's place as the Live Music Capital of the World. Certainly, he is the best known. Look in any blues history and you will find his name. He just has this aura of greatness about him that had us shaking in our boots when we started the interview. This guy knows and has worked with just about every major name in the music industry. But while his stories may be the stuff of legends, he's just a regular, nice guy that has done so much for this town. Man, I could ask him stuff all daze. His message: get out and support live music. Keep Austin the Live Music Capital of the World! Thanks so much for doing this interview with us.
AUSTIN DAZE: Are you from Austin?
CLIFFORD ANTONE: No. I was born in Port Arthur, Texas in the lowlands where the blues came from. I could never hear anything but the blues. I am a blues man, period.
AD: How did you start in the music business?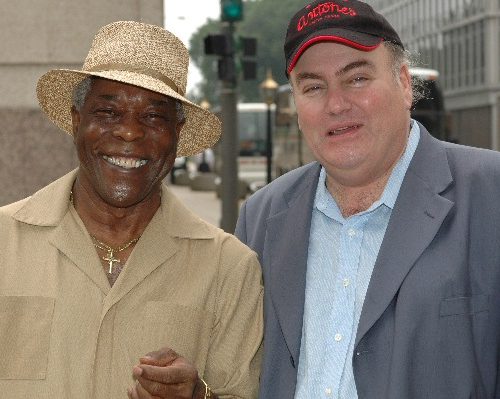 CA: I didn't really start in the music business-I'm just a music lover. Back in 1975, at the age of 25, I wanted to open a nightclub since they had changed the 12 o'clock curfew to 2 o'clock am. I wanted to bring Chicago blues to Austin and give young musicians a place to play-like, Jimmie Vaughan , Stevie Ray, Lou Ann Barton, Denny Freeman, Angela Strehli, and Derek O'Brian.
Paul Ray and the Cobras, and the Fabulous Thunderbirds were my house bands for the first year that I was open.
AD: How did you attract all the blues legends to Austin?
CA: Back in '75, when I first opened up the nightclub, I met up with my friend George. I called him up and I went to Chicago and met Sunnyland Slim the piano player and Big Walter Horton the harmonica player. Leon worked at the record store next to the club and he called up Clifton Chenier of New Orleans and brought the Zydeco Music. Then Fats Domino, BB King, Sam and Dave and Irma Thomas played at the club. Since 1975, Buddy Guy and Jr. Wells were a team. Muddy Waters played for two solid weeks.
AD: Tell us a John Lee Hooker story.
CA: One night I was sitting at the nightclub and the phone rings. The bartender says, "Hey, Clifford, it's for you". It was John Lee Hooker. He asked me how I was doing and I said, "Good". He said, "Good, because I need a gig". I told him, "You don't have to ask, you just have to tell me when you want to play".
AD: Of all the musicians that you've met over the years, who made the greatest impact or impression on you and why?
CA: Every one of them is the greatest. Clifton Chenier: he made the accordion sound as if it was an entire orchestra. Clevland: played the rough board the best ever. They are geniuses. When Muddy Waters played the slide guitar, it was so powerful. When Stevie Ray and Albert King played together, they were amazing.
AD: What is your favorite memory of old Austin before the boom changed everything?
CA: The tolerance level was much higher. It used to be an easy going, "Live and let live", attitude. The DWI and TABC laws make it hard to run a nightclub. There is no room for gray areas.
AD: What do you like most about Austin now? Least?
CA: I can't say what I like, but I do know what I love about Austin, the music. Austin is where I want to live.
AD: Least?
CA: The lack of tolerance. The rent is so high that musicians can't afford it. People who are asleep at 10:00 p.m. are telling us what to do at 2:00 a.m. There are so many regulations; people want to have power. It's not easy to start a business like it was back in 1975 when I started. Today it is so much harder because of all of the above.
AD: Why is it that great artists have a difficult time being fully appreciated these daze?
CA: America has no culture. What sell are the top ten pop songs. They make it look palatable and something the public can swallow. Musicians have to go to a country outside of this country to be treated like a king. Why is that the opposite in this country? Our country is not based on culture. In the schools the first thing they cut is the funding for the arts. It is not promoted in our country.
AD: A new crop of musicians is coming up now that we've most likely not heard of yet. Who are the two or three most likely to be major stars in the near future?
CA: Keller Brothers, Eve Monsees, Gary Clark, Moller Bros, Johnny G, Jason D, Erin Jaimes, Donna Kay and Liz Morphis.
AD: What do you think of ACL: then and now?
CA: It's a good TV show. I wish they could do more local musicians. For one reason or another they don't do local talent as much. I guess it's hard to please all the officials. They did a brilliant job at booking talent for the festival. It ended early so that people could go out to the clubs and that benefited local businesses. It's the next best thing to SXSW. Nothing is perfect. It's a good thing. You've got to give credit to the city and music coordinators.
AD: Where are your favorite places to eat in this town?
CA: There's about 100 of them: Guerros, Threadgills, Iron Works, Rubies BBQ, Frank and Angie's, Sullivan's, Ruth's Chris, Austin Land and Cattle Co., Eddie V's….is that enough?
AD: What comes to mind when you hear: "Austin is the live music capital of the world"?
CA: Against all odds. We've never been helped or gotten enough support from the city. They are busy handling city stuff.
Antone's, The Armadillo, Opera House, Liberty Lunch, The Backyard, and The Soap Creek Saloon owners were the founding forefront. Stubb's brings top quality musicians. These people are the reason for Austin's being the live music capital of the world. It was the music that they worked hard for and took losses. They knew how important the music scene was and they understood what it took for a club to be successful. It is not understood by the people. People need to get out of their houses. Turn off the TV, throw away the computer and support live music! If people would see how easy it is to support the musicians just by going out and spending $20 for the music. Help support live music!
AD: Which location of Antone's has been your favorite and why?
CA: The first one on 6th St. It was completely dead down there. Rent used to be $600 compared to now at $10,000 a month. We were the first club on 6th St; there was nothing going on; 6th St was absolutely deserted.
AD: What do you think of our current political situation?
CA: Let me ask my consultant….It sucks! With that aside, I look at it like John Lennon: "Give Peace a Chance. Imagine." I'm a peace kind of guy. Make love not war.
AD: What is Antone's Records all about?
CA: In 1986 I started a press label to give a chance to kids like Lou Ann Barton and Doug Sahm. The sound was just like what they did in the nightclub; it was what they really sounded like a chance to capture and share the feeling.
AD: What is in your CD player?
CA: Listen to this…Muddy Waters-"Honey Bee".
AD: What would you like to say to the people of Austin?
CA: Turn off your TVs and throw away your computers and go out and support and listen to live music.
AD: What do you think of the Austin daze?
CA: Often in the daze like purple haze….but seriously. Anybody that is doing something good for Austin is good.
AD: You play a killer bass. Who are your favorites and who influenced you to pick up the instrument?
CA: I can play blues all night with anyone but I never considered myself a professional. I am an amateur, and I have fun doing it. But I have gotten to play with the best and that is what I have enjoyed. Especially, Albert Collins and Luther Tucker. My favorite bass player from Chicago is Jack Meyers.