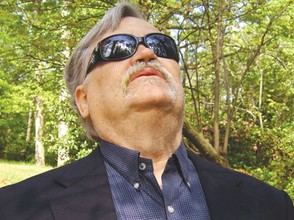 Col. Bruce Hampton & the Quark Alliance make a rare Austin appearance (his first since the 90s) at the Ghost Room on Tuesday October 5th.
When people started tracing back every actor to Kevin Bacon in the "5 Degrees of Kevin Bacon" game, I thought the music version should be "5 Degrees of Col Bruce Hampton".  In the 90's Col. Bruce was the Roger Corman of music, playing a underground spiritual uncle to younger talent who would go on to bigger success. Ex-members of Col. Bruce's band went on to be members of  the Allman Brothers, Widespread Panic, The Derek Trucks Band, Leftover Salmon, Phil Lesh and Friends, and The Dead. The Dead and Allman Bros give the "5 Degrees of Bruce" game direct access to most of Rock History.  The game gets even easier when you count collaborations with other artists. Hampton credits range from appearances on Medeski Martin & Wood albums to a movie role in Billy Bob Thorton's Slingblade.  Not everyone can say Susan Tedeschi wrote a song about you (Tedeschi wrote "Hamptomized" about the Colonel).  Plus Tedeschi taps "5 Degrees of Bruce" directly into the Austin music scene. If you ever strummed a guitar in Austin, you're probably 5 degrees away from Bruce Hampton and didn't realize it. 
Get one degree closer to Bruce on Tuesday Oct 5th at the Ghost Room (the old Gingerman location on 4th street).