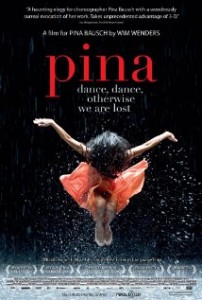 Pina Bausch was a choreographer of extraordinary vision and innovation. In Wim Wender's 3-D film entitled simply "Pina," movie-goers are treated to excerpts from some of her most well-known and influential works. Among them are a piece that takes place entirely on loose soil so that the dancers become increasingly smudged and dirty as they enact tortured scenes of struggle and strife, a prop-filled piece entitled "Café Muller" in which chairs and tables are used to ingenious effect, and some outdoor sequences that use city space, light and air to add texture and depth to the dancer's movements. Some of the most fascinating sequences are when Pina utilizes natural elements in the choreography: rock, sand, water.
There are moments of romance, levity, heartbreak, outright anguish and pain, and sheer beauty.
Between each dance piece, a member of the troupe tells a brief story about Pina. None of these stories are about her personal life – only about working with her. The film aims strictly to offer a tribute to this woman's amazing work and work ethic. We're given the impression of someone driven to create, bound only by her seemingly limitless imagination. She was a woman of few words, who made it count when she offered brief directions to her dancers.  Everyone involved clearly has enormous respect and love for Pina and her work, and that shows in each frame of the film.
The choice to use 3D here is inspired. It's as if we're in a live auditorium, watching the dancers move about on a real stage. In as much as it's possible, we get the sense of live dance performances while sitting in an ordinary movie theater.
This is a must-see for fans of dance, art, and theater.
4.5 of 5 stars
In this article