AUSTIN DAZE: How did you get your start in the acting business?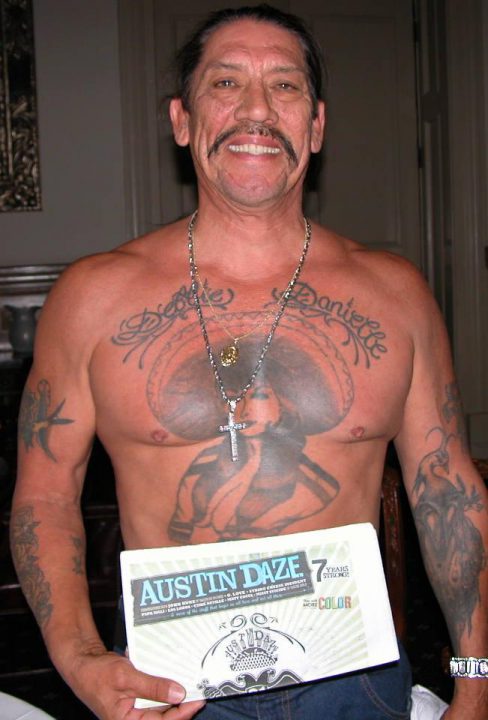 DANNY TREJO: I had been a drug counselor since two years after I got out of prison. I worked for a place called Western Pacific Rehab in Glendale, California. One night in 1985 some kid that I was working with called me up and asked me to come down and support him because there were a lot of drugs at his job–he felt he was going to use. So I went to support him–thinking it was a regular job–and it turns out he was a PA on a movie called "Runaway Train" with Jon Voight and Eric Roberts. I walked out and all these guys were acting like convicts: they had big tattoos and were pretending to be hard. I was just hanging out when this guy came up and said, "Hey you want to be an extra?" I didn't know what he meant. He says, "Can you act like a convict?" I thought, "I'll give it a shot." He was going to give me fifty bucks to stand around and act like a convict. I tore off my shirt and I have this big tattoo on my chest. This guy comes over and says, "Hey you're Danny Trejo" and I said, "Yeah." He says he recognized me from the California State Prison Boxing Championship I had won a title for. He's a writer and he says that he wrote the screenplay and wants to know if I want a job. I say, "I got one – they are going to pay me fifty bucks to act like a convict." He says he needs someone to train one of the actors how to box. I asked him what it pays and he said, "$320 a day." So when he said that, I thought, how bad do you want this guy beat up? For $320 a day you must want to f**k somebody up. He said this actor was so high strung he might shock me – he had already shocked a couple of people. I said, "For $320, give him a stick and he can hit me all he wants." They used to pay me that for a five or six round fight.
So I started training an actor by the name of Eric Roberts for that movie, "Runaway Train." The director saw me, saw the relationship that I developed with Eric – Eric was scared of me – and he hired me to be in the film. I didn't know what they were talking about – I just showed up. I thought they were paying me $320 a day. I didn't know about time and a half. We worked 16 – 17 hour days on that movie. When they gave me my check, I thought they made a mistake. I was going to go cash it before anyone realized.
From that day until now I made 139 movies. What happened was, from 1985 to 1993, they made a shit load of low budget prison movies. And they would get that Mexican guy with the tattoo and I would show up. For the first five years of my career I never even had a name. I was inmate number 1; gang member number 1. As long as I stayed as number 1, 2, or 3, I had a career going. I think the first movie that I did that I actually had a name was with Charles Bronson: :Death Wish 4″ and my name was Art Sanella.
AD: How do you feel about being the quintessential bad guy?
DT: I feel bad all the way to the bank.
You know I had to put this in perspective — the whole thing. I watch people that have grown up in Hollywood, people that have grown up as actors, and a lot of them have no concept of reality whatsoever. Everybody is supposed to bring them a cappuccino. I had a life – I was 38 years old – before I got into the business. I went to prison, I was in juvenile hall and I know what is out there. I love being the bad guy because it means I work. Every movie has room for like, five or six bad guys, but there is only one good guy. I'm just glad to be able to do it and keep working.
AD: Do you ever not work?
DT: Well, work seems to have become my life. And my kids are incorporating this into their life too. My son has a punk rock band called the Dead Reagan Tour. If I'm not working I'm the punk rock dad; like a soccer mom.
AD: How many children do you have?
DT: I have three: Danny Boy, Gilbert and my daughter Danielle.
AD: What has been your favorite role and why?
DT: I think my favorite role was Navajas in "Desperado." I had more fun on that than ever before. And that's kind of evolved: I went from Navajas to Uncle Machete. And now Robert's got the trailer in "Grind House" for Machete who is a federal agent who fights with machetes. It's going to be off the hook. Robert has gone so far over the top with that movie.
AD: What is your relationship to Robert?
DT: Distant cousin. I met him on the set of "Desperado." When I interviewed with him, I walked in and he just kind of looked at me and that was it.
AD: You've been doing a lot of horror movies, are they more fun to do?
DT: The thing about horror movies is that the people that are working on them really love what they are doing. You don't find anyone on a horror movie that thinks it is a job–even the stunt guys. It's a lot harder to do a stunt dressed as a zombie. Everybody working in a horror movie doesn't just come to work.
AD: What advice would you give to someone starting out in the business?
DT: Dreams come true.
AD: Did you ever dream of doing this?
DT: I never did. I dreamed about helping other people and staying out of prison. I had been in prison most of my young life and I knew I was going to stay out. I had no skills. I just kind of dedicated my life to helping other people. Everything good that has ever happened in my life has happened as a direct result of helping someone else. You got to give it back.
AD: What do you like about Austin?
DT: I love people watching on 6th Street. It reminds me of the boardwalk on Venice Beach. I met people that I knew in Junior High School. And all the soldiers that come here are 18 and 19 year old kids that are shipping out. Getting drunk. I've gotten a couple of soldiers drunk. I don't drink.
AD: What's next for you?
DT: I'm just really looking forward to Robert getting started on "Machete." It's just one of those movies that are so much fun. It's also one of those movies where I have six or seven weeks to get in shape so I'll be pumping it.
In this article