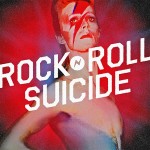 Here is your chance to be transported back in time to 1972 and experience the greatest rock concert ever ever produced!
Antone's (at it's new East Riverside location) will host Rock n Roll Suicide – a Tribute to David Bowie on Saturday August 31st, 2013.
Come and bear witness to the ground-breaking rock and roll – as local music collective Purple Bee Crew recreates The Rise and Fall of Ziggy Stardust and the Spiders From Mars in all its bombastic, spellbinding glory.
Kicking off the night – The Super Creeps, an all-star band of Bowie aficionados led by Adam Sultan and John 'El John' Nelson, will perform a full set of Bowie classics.
The grand finale is Rock and Roll Suicide, a stunning and costumed re-creation of the legendary Rise and Fall of Ziggy Stardust album. Released in 1972, "Ziggy Stardust" was an immediate hit and vaulted David Bowie to a mega-star. Rolling Stone listed the album at #6 on their greatest albums list from the last 50 years and #35 on the Top 500 albums of all-time.
Come early for a Bowie mashup. Put on your 'glammiest' clothes and get a lightning bolt face painted. Get your photo taken on the red carpet 'as' David Bowie. This concert benefits Aids Services of Austin.
In this article