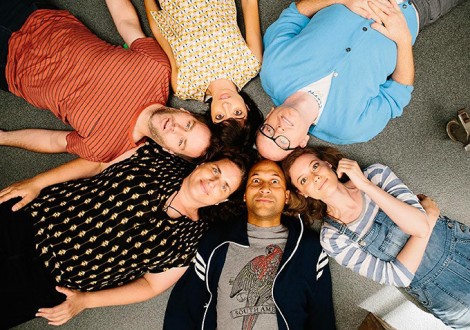 Coming back full circle after watching the documentary about Del Close earlier in the weekend, and a film seemingly inspired by Del Close and his improvisational movement, Don't Think Twice is written/directed by the comedian (among other things), Mike Birbiglia. Taking a stab at portraying the trials and tribulations of an improv troupe and how to deal with making it or not in the competitive world of comedians, Don't Think Twice delivers some smart dialogue and well-crafted performances from the cast.
Miles (Birbiglia) is a teacher, mentor, and kind of a leader of an improv troupe out of NY called, The Commune. Composed of 30 somethings who are barely keeping it together in their lives and with their group, we get a glimpse of their struggles. With cast members including Keegan-Michael Key, Kat Micucci, Gillian Jacobs, Tami Sagher, & Chris Gethard, the performances and chemistry are sweet and also sour at moments.
Mike Birbiglia's character does not show much in the way of training or teaching. Besides charming and luring his naïve students into his dorm-like loft, he doesn't carry much weight in the film or add too much to the other characters lives. The focus of the film revolves around one of the team members hitting the big time working for "Weekend Live" a carbon copy of SNL and how that success affects the group as a whole and his personal relationship. With this, Don't Think Twice does not feel completely crafted. As an ensemble cast, there are snapshots of character development, but it feels staggered and minimal at best.
This film definitely seems personal and there is a lot of discussion about being a loser, having menial jobs, or barely paying bills that is a real burden for creative minds that don't quite make it. Mike Birbiglia has perhaps seen this along the pathway of his career and I would have liked to see a fully fleshed out story.
In this article