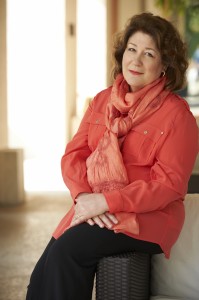 You may not know her name but you most certainly know her face. Margo Martindale is perhaps the hardest working woman in show business. With a career spanning over 20 years in film, television and theater, she's Hollywood's go-to gal for memorable supporting roles. She's been able to make her mark standing next to some of the brightest stars in Hollywood in such films as "The Hours," "Million Dollar Baby" and "Secretariat." She was nominated for a Tony in 2004 for her turn as Big Mama in "Cat on a Hot Tin Roof", and she's conquered television in "Dexter", "Mercy", and "Justified" for which she won an Emmy this year. The New York Times Magazine named her one of the "8 Actors Who Turn Television into Art."
Ms. Martindale has now turned her talents to a low budget indie thriller called "Scalene," playing the lead role of Janice Trimble, a mother who takes revenge when her mentally challenged son is accused of rape. The word 'scalene' refers to a triangle with three different angles, and such is the nature of this film; director Zack Parker and co-writer Brandon Owens have skillfully crafted an intricate look at three different perceptions of a singular event. The film is structured in reverse order, beginning with the climax and working its way back to a pivotal moment for Janice Trimble.
With a meager budget of only $150,000 (less than some blockbusters spend on craft services alone!), the film could easily have fallen into the pitfalls seen so frequently in low budget thrillers, but that's not the case. Concerns about quality dissipate quickly as the story sucks you in. By the end, one is astounded at what has been achieved with such limited resources.
"Scalene" co-stars Adam Scarimbolo ("A Guide to Recognizing Your Saints") as Janice's handicapped son Jakob, and Hanna Hall (young Jenny in "Forrest Gump") as Paige, the college student who becomes his part-time caretaker. Both young actors impress in these roles, but this is really Ms. Martindale's tour de force.
I had a chance to ask Ms. Martindale about her career and what it's like to play an unhinged mom bent on violent revenge.
DW: First, congratulations on your Emmy win.
You've got a Tony nomination under your belt (for Big Mama in "Cat on a Hot Tin Roof"), you've worked with some of Hollywood's most revered directors (Clint Eastwood, Sydney Pollack), and you've been in over 40 films. Do you have a favorite project or experience? One that is particularly special to you?
MM: Of course "Justified" because it was such a rich and completely satisfying character and so much fun, but other than that I'd say it was the honor of having Alexander Payne write the role of Carol for me in the "14th Arrondissement" segment of "Paris Je T'aime."  It was like doing a silent film because with only one exception I didn't speak as we filmed, and later added voiceover narration.  He is such a gifted writer and director.  Plus, what better location to work is there than Paris!
DW: I've just watched "Scalene" and found it fascinating how the perception shifts throughout the film. As an actor, do you have to find a universal truth of the film… that is to say, do you have to "answer the questions" of the film's internal logic in order to play the role as part of a whole? Or do you approach a puzzle like this by focusing exclusively on your character's point of view?
MM: Typically I do search for the internal logic in the films I'm in, but Scalene was a little unique in that it dealt specifically with differing perceptions of events, so I believe that more so than usual, I approached it from my character's point of view.
DW: The film focuses on an occurrence through the eyes of 3 different characters, almost in Rashoman style. Did you and director Zack Parker discuss which point of view is "true"?
MM: We discussed it many times, but Zack never revealed to me what he saw as the reality.  However, even if I had been told otherwise, I would have to have come at it from the perspective that I was telling the truth.
DW: One of the things I admire about "Scalene" is the fact that it was done on such a small budget with no special effects – just good old-fashioned storytelling. What attracted you to the role? How were you approached?
MM: Zack sent the script to my agent while I was on vacation who sent it along to me.  It was a real page-turner, and I immediately responded to the story and my character.  That was several months before shooting began and I was working on another project at the time.  Luckily the timing worked out and I was available to be a part of it. 
DW: This role is a departure for you. The character Janice Trimble is rough around the edges at best, and unhinged at worst. Is it fun to play that type of role? Or is it disturbing to get inside her mind? What was that experience like for you?
MM: I always love the opportunity to portray a character who is eccentric or "unhinged" as you said.  It's very liberating to let go and not be bound in by conventional behavior.  The shooting experience was wonderful because Zack and the cast and crew were all wonderful.  We got along great and had a terrific time filming on a tight schedule. 
DW: Are you the type of actor who adopts something of the character between scenes? Or are you more the type who can turn it off and on?
MM: I can usually turn it on and off, but sometimes, depending on the role, I need to stay apart and be quiet.
DW: In this film, most of your work is done with two young actors, Hanna Hall as Paige, and Adam Scarimbolo as your son Jakob. Did they ask your advice? And do you know if Zack Parker was daunted at all about giving direction to someone with your resume?
MM: Actually, Adam, Hannah and I all three sought advice from one another.  They're young, but very skilled.  Zack is quite confident and very clear in what he wants from the actors and the film.  He's not someone who waivers or is intimidated, and he has no reason to be.  He has already developed his own style as a director.
DW: "Scalene" is more of a thriller with strong dramatic elements, but the online indie horror community has been very supportive, giving it lots of attention in blogs and such. Have the flood gates opened up for requests to do horror films?
MM: No, but I wish they would!  I LOVE HORROR MOVIES!
DW: You're currently working on the TV show "A Gifted Man" with Patrick Wilson and Jennifer Ehle. But we know you're never content to stick with one medium. What's next for you?
MM: There's a movie that I'm hoping to do with Ned Beatty which was written by his son, Thomas Beatty.  At the moment "A Gifted Man" is keeping me busy, and I'm really enjoying the experience and the luxury of working in New York where I live. 
You can watch Ms. Martindale go unhinged in the thriller "Scalene," available on DVD now, and Blu-Ray November 8th.
In this article