Our time at Fantastic Fest actually began a couple of weeks ago as we started planning for the festivities. We went over to the Alamo to get our badges the day before things kicked off. The process was so smooth. There were not really any crowds of people and we were able to chill out in an area that is overflowing with humans as I write this. Fantastic Fest is packed, as always.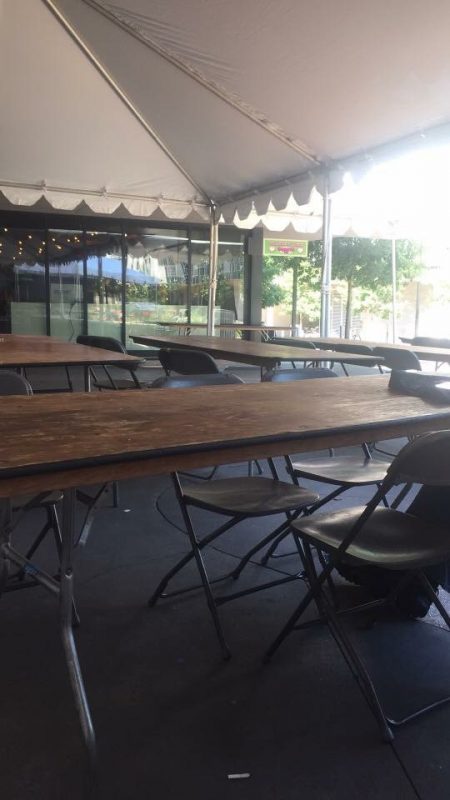 The first movie that I experienced this year was called "Arrival." This film blew me away. The way that I do this festival is to know nothing about the films before I see them. This way, when a film is good it becomes really good.  The only problem with seeing movies this way is that when a film is able to sneak up on me and be really fucked up. That happens very rarely, but it does happen like it did on day three this year. This film was excellent. It was written and directed by Denis Villeneuve. He is a director that is on my watch list. He did "Sicario", which is an excellent film. It starred Amy Adams. She is an actress that I have followed for many years. I feel that this movie is one of the best science fiction films I've seen and definitely one of the best movies I've seen this year. My face hurts from grinning like a twelve-year-old kid for most of the movie. You will definitely hear more about this film soon.
The second day I brought my film comrade, Dovie, to the scene and we kicked things off with "The Autopsy of Jane Doe." I was unprepared for how much I would dig this flick. It was on a completely different level than "Arrival" and it really scared me. I have a feeling that if this film is released the right way it will become a classic horror movie.  It was actually scary. The acting and the writing and the direction were all good. I do think that some of the gore can be cut out and it will still be very scary.
The next film was "The Bad Batch" and this was a film that was packed with random superstars in very weird roles. But, I'll be honest that I did not really get this film at all. I feel that you might need to take a little LSD before to understand what's going on. My film partner said that this movie was not for her and that made so much sense to me because this might have been a great film but it wasn't for me, either.
After that film, we headed over to the South Austin Gym for the Fantastic Debates. How do I explain this? This is a debate in a boxing ring where they debate such things as "Rocky IV" being the best boxing movie of all time. And what they do not settle with words they settle with fighting. Owen Egerton is the announcer/ref every year which means that it will be an entertaining time. After the first debate started a surprise guest that was Dolph Lundgren stepped onto stage because he was the bad guy in "Rocky IV." We stayed for two more fights and the third fight was a girl fight. We were ringside for these fights and it was the closest I have ever been. They really throw punches. We left and went home and went to sleep. We are still at the festival now, so I will give you some reviews of day three and four.
---
tomorrow.
In this article