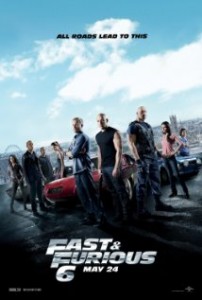 In case there was any doubt, yes, someone bald will walk away from a burning inferno at some point in the film. Fast and Furious 6 is popcorn fodder for the masses, but that's why we keep coming back, right? There are impossible, physics defying stunts, like jumping from a cargo plane into a jeep on a never ending runway or miraculously making it out of a car wreck without a scratch after rolling multiple times, but you've seen these things before. Should you expect something different from the newest edition to this great saga? Well, it is more amped up this time around with faster car chases and more furious muscles than director Justin Lin's previous installment, Fast 5 (2011). Inconceivably, there is a meathead in the film who makes Dwayne "The Rock" Johnson look like Warwick Davis.
This film starts off soon after the last movie left off with all of the different crew members living the lavish dream life in separate parts of the world since splitting up the 100 million from the last movies heist. DSS agent, Luke Hobbs (Dwayne "The Rock" Johnson) attempts to recruit his former foe turned bro, Dominic Toretto (Vin Diesel) to help him take down the nefarious Owen Shaw (Luke Evans) and his team of outlaws who up until now have evaded the authorities gracefully with their superior driving skills. The kicker is Dom's presumed dead girlfriend, Letty Ortiz (Michelle Rodriguez) who we last saw in the Fourth installment, is running around with these criminals stealing government weapons from the Russians. There is a call to arms where the "family" (Paul Walker, Tyrese Gibson, & Chris "Ludacris" Bridges to name a few) comes back to help save Michelle Rodriquez's character and take down her team. We find out that she suffers from amnesia and is a blank slate; like Orlando Bloom as Legolas in The LOTR trilogy, this is the perfect role for the always emotionless Michelle Rodriguez.
Most of the movie takes place in London with an abundance of car chases, some impressive explosions, and a booty shakin street race between the tough, yet flirtatious, Diesel and Rodriguez. Besides the newer model cars and family first sentiments, there isn't anything interesting added to the franchise that hasn't originally been done in the previous films. There is one character you want to identify with, Han (played by a likeable Sung Kang), who is first seen in The Fast and the Furious Tokyo Drift (2006), but he has very few lines.
I think this time around, the idea was to try and tie up storylines without giving any characters any more development than the occasional one line quips (usually between Tyrese & Ludacris) and fist bumps. The only humorous scene in the movie, intended or not, is where Toretto & Hobbs (Vin Diesel & Dwayne Johnson), are summing up their newly formed bromance by standing side by side not looking at one another. It was reminiscent of watching two bull dogs sniff one another's butts.
In the end of course, we know that Fast and Furious will not just drift softly into the Tokyo night. Next time, we can expect an even bigger name to join the ranks (Hint: He's bald as well). If you are furious after watching this movie, it may have to do with your part in fostering this ongoing franchise.
In this article