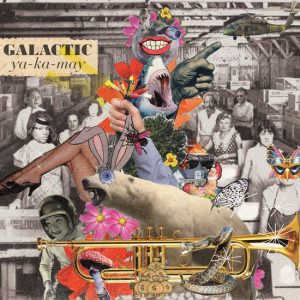 Food tells a lot about a local culture. When making gumbo, don't "ask what goes in it?" Ask "what do you have?", cause anything and everything goes in gumbo. Gumbo explains New Orleans, it's a mix of different influences and traditions, everything truly goes in New Orleans. Ya-Ka-May, also called Ya Ka Mein, is a similar multi-ethnic dish. A noodle soup invented in the cultural stew of New Orleans, Ya-Ka-May has unclear origins. Possibly brought back to New Orleans by black veterans of the Korean War, it's been jokingly called Seoul Food. Ya-Ka-May is a fitting title for Galactic's new album – it's a musical mix of influences. Ya-Ka-May is Galactic with guests from a wide range of New Orleans styles: a brass band, a soul queen, a Mardi Gras Indian, a funky piano professor, a tailgate trombonist, a fiesty Creole singer, a traditional jazz band, a bluesy Wolfman guitarist, hip-hop booty bouncers, sleep deprived garage rockers, and a trumpet player with the word "Trombone" in his nickname. Yet the album has a cohesive sound, each song sounds distinctly like a Ya-Ka-May song. This is Galactic's drums and brass album, everything not a beat or a horn is down in the mix or used minimally to great effect.
Galactic has an ongoing mission to broaden their sound and explore new directions with each new studio album. Somewhere around three albums ago, Galactic hit the studio with the intent of recording a sound fans of their live shows wouldn't immediately recognize.  Ya-Ka-May finally hits this goal. The public radio station in Austin is giving Ya-Ka-May songs decent airplay, and the Irma Thomas sung "Heart of Steel" was unrecognizable as Galactic to me. It took hearing the deejay later announce the artist to realize it was the new Galactic. Mission accomplished for new sound.
Why does Galactic move forward from their original sound of a Meters tribute band? All the good Meters albums have already been made. Even all the good Gumbo-titled albums have already been made. This is Ya-Ka-May, today's New Orleans served fresh.
Galactic has always gone the gumbo route of many influences, being both an all-instrumental band and a singer-led band at the same time. Both sides of Galactic appear on Ya-Kay-May. Over Galactic's fifteen year career, some have asked why Galactic alternates between having and not having a singer. That's like asking why a New Orleans band is being a New Orleans band. It's gumbo, it all goes in there.
Whichever side of Galactic you like, Ya-Ka-May has essential songs for you. "Heart of Steel" starts off with a non-Galactic beat, then drummer Stanton Moore's signature tom-tom rhythms fade in, a harmonica adds color, the bass line drops, and 2008 Jazz Fest poster girl Irma Thomas sings "I should've known better, than to run through a ring a fire". John Boutte nails his vocals in  "Dark Water", soulful and aggressive over Galactic's hard funk backdrop.  On 1975's Southern Nights, studio effects gave hit-maker Allen Toussaint's vocals a swirling psychedelic sound, and Toussaint resurrected this reverb vocal sound on "Bacchus", his vocals and trademark piano trills layered on top of bass drum rhythms. Walter "Wolfman" Washington "Speaks His Mind" with late night spacey blues and slide bass giving way to a chorus sounding like the Houseman, Galactic's retired original singer. Rebirth Brass Band brings "Boe Money", the strongest instrumental on the collection, starting out with a jangly rhythm guitar, adding beats and horn layers until becoming a Galactic-Rebirth fusion. The biggest departure from any previous Galactic sounds are the four "Bounce" songs. Bounce is a regional dance music, raw and energetic, with a do-it-yourself underground attitude. Most importantly, Bounce is a dance soundtrack for absurd dance moves that focus on extreme shaking of the bootay. To truly appreciate Galactic's Bounce songs (and get a laugh), search YouTube for "New Orleans Bounce" videos first, then picture the Bounce moves while listening to "Double It". Fair warning, some Bounce videos are not suitable for work, but you just might find the video of the girl that climbed up a tree to bounce her booty. Here's to hoping the Bounce dance moves find a new home among the crowd at Galactic's live shows.
Besides learning new music, I've got a new dish to try. Ms. Linda Green has a booth at Jazz Fest each year, selling Ya Ka Mein and banana bread pudding. The banana bread pudding is amazing, but I've always skipped the Ya Ka Mein. Why come all the way to New Orleans and eat an Asian dish? With a little musical food education I now know the answer.  Prediction: the Ya Ka Mein line at Jazz Fest gets longer this year.
On a rating scale of Don't Buy,  Download,  Buy CD, and Buy on Vinyl (with Don't Buy the worst, and Buy On Vinyl the best) Ya-Ka-May is Buy On Vinyl.
In this article