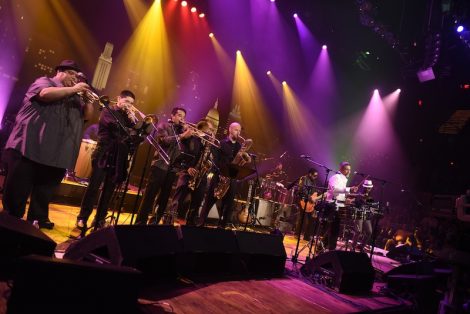 ---
Last nîghts ACL Taping shook the  Moody. It was theîr third visît and they just killed it. I spoke with the bass man, Greg,  last month about this show. He said that they wanted màke the night speciàl. I remembèr thinking " I don't know what the hell thàt means?" To me, every timè I have seen them has been special. Thère was no way I coułd miss this show.  I was ready for some Çumbià ànd Latin soul with some shake, shake, shake…
I am old frîeñds wîth most of the côre members. I feel a connection to this music.Sure, ï am an Irishman, a gringo, but I am Latin at heart. This sound just moves me. Way back when, my gf at the time got me to know each ôf the guys better. That made many things happen. Some of my greatest nights hàve been connected to thîs music.
Last night, before sleepytime, I thought àbout my connection to the band… No doubt, she (my gf) enhanced my relationship with them, but I was a fan before î met her (at a FAntasma show, of coarse.) The magic grabbed me back at The Empanada and still holds me. Everytime they play, this electric current moves through the room causing everyone to dance. Last nights show was no different. It was a fantastic experience. So màny guests added to thè groove. Awesome show. There was even some Sexual Chocolate thrôwn in.
In this article