With longtime Austin hero Guy Forsyth, expectations can run high. Given the body of work he had prior to this album, beginning the writing process and attempting to record must be a daunting task. And for those of us on the other side of the process, popping in the first original studio recording the man has done since 2005's "Love Songs For and Against" comes with nervous anticipation. (2008's release of "Calico Girl" was a re-recording and improvement on 1999's "Can You Live Without" that got tangled up in a bad record deal).
In that time, many things have changed for Guy. His daughter Mary Mae was born, and more recently he was signed to the Blue Corn Music label which specializes in eclectic mixes of Americana that he will fit perfectly in.
"This record is different from the last couple projects that I worked on because I specifically set out to make a studio record, not an immediate representation of something that I was already doing live," Guy said. This is a concept album, the concept being Guy's attempt to explain himself to his little girl, who without a doubt will study this album carefully later in life. When that day comes, it will probably just confirm for her how fortunate she is.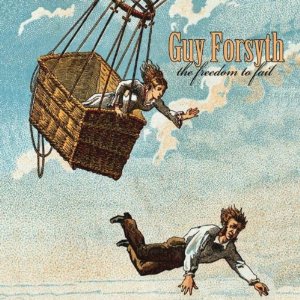 "Red Dirt" opens with an old school blues and gospel mix; the lyrics that begin as a gardening lesson quickly turn to parenting: "Too much talk and she won't learn to listen, too much silence and she won't learn to speak, too much favor and you spoil her, not enough and you make her weak…" Then the song turns to the men of this world: "Too much pride and he won't pay attention, too much money and his soul grows thin, too much faith and he can't see reason, too right to see the shape we're in…" Other stand outs include the old chain gang style "Sink 'Em Low (The Holler)," "Things that Matter," "Econoline," the haunting "Can't Stop Dancing," "Balance," and the Johnny Cash styled "Old Time Man."
Along for the ride are bassists Ed Friedland and Jeff Botta, drummer Nina Singh Botta, Oliver Steck on keyboards, accordion and trumpet, Matt Smith on guitar, John Doyle on clarinet, David Webb on organ, and Asylum Street Spanker alumni Sick on fiddle and Wammo on vocals. Guy supplies guitars, ukulele, harmonica, mandolin, wine glass and saw. As you might expect, Guy runs through a number of musical styles using broad instrumentation with ease, crafting the kind of songs that just seem to fall out of him naturally. All songs are delivered with the kind of earnest passion that has become rare in today's music.
"There's a level of care that can go into something that speaks to a love and an interest and engagement in life. You try to make something that reflects the world as you want it to be. I just want to make songs that are worth people's time to listen to. I'd hate it if I were wasting anybody's time, because time is the most precious thing we have. If somebody's going to give you their attention, you need to make it worth their while."
-Maria Mesa, Atown Records
In this article