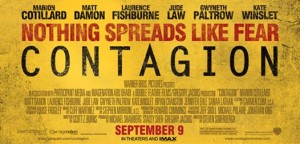 Steven Soderbergh's "Contagion" starts off on a quietly foreboding note, quickly becomes harrowing, then loses its way with too much CDC procedural and not enough human drama, but ultimately comes full circle and leaves us with an effective, lingering unease.
We meet Beth (Gwyneth Paltrow) on her way home from a business trip in Hong Kong. She's got the sniffles. It gets worse. Quickly, lots of A-list stars are trotted out to let us know this thing is serious. Among the familiar faces are Matt Damon as Beth's husband, Kate Winslet as a dedicated CDC first-responder, Laurence Fishburne as her boss, Jude Law as a blogging conspiracy theorist, Marion Cotillard as yet another doctor, and there's more. Truly, the cavalcade of huge stars is a bit distracting, like those Irwin Allen disaster extravaganzas of the 70s. But this film is sharp enough that it doesn't need to rely on that much high wattage to make it work. Each and every performance is solid and rounds out the ensemble nicely. Surprisingly, it's the lesser-known Jennifer Ehle who makes the biggest impression. The impish sparkle in her eyes and her Mona Lisa smile make a character that exists largely for expositional purposes an awful lot of fun to watch.
As the epidemic spreads and we get the creeping feeling that this all seems very, very plausible, Soderbergh goes one better and has a bit of fun playing with contagion as a theme – fear, rumors, crime. Lots of things are "catching".
The screenplay does a good job of giving us just enough med-speak to sound right and keep us in the loop without bogging down too much, but those looking for a non-stop thrill ride should look elsewhere. The movie is "talky" (which isn't necessarily a bad thing) and relies heavily on the suggestion that this could happen and probably will happen, rather than relying on cheap thrills, chases or other bang-zoom contrivances.
The tone is consistently somber except for one unfortunate moment involving an autopsy that plays more like something out of a tongue-in-cheek gore flick. Maybe it wasn't meant to be funny but it got laughs and felt completely incongruous with the rest of the film. Perhaps it was the kind of in-joke between director and star that Soderbergh likes to dabble in from time to time. Whatever the case may be, it sticks out like a sore thumb in an otherwise smart film.
There are some subplots that are left dangling, some inconsistent pacing, and the soundtrack makes its presence known more often than it should. But those are mostly quibbles. This is a solid, well-acted thriller.
Rumor has it that the relatively-young Mr. Soderbergh wants to retire in the next few years and take up painting. If true, that's a pity. With a 34-film career (so far) spanning genres and criss-crossing between indie/art house and the Hollywood mainstream, there is still that discernable Soderbergh-ness about all of his movies. There are some lovely signature moments in this film as well, such as Marion Cotillard's last scene which lets you reason out for yourself where she's headed, and the final sequence which answers the mystery of the epidemic's origin.
This is a good movie, but not a feel-good movie. Check it out if blaming Gwyneth Paltrow for major worldwide tragedies is your idea of a good time, or you're in the mood to lose some sleep.
4 of 5 stars.
In this article