On Fridaze night , I saw two acts put on a show at Antone's. An epic night of music happened. Yes, I have seen both bands, a few times, but that doesn't matter. Each time, feels like the fîrst.
I started a fair ways into the Money Chicha set. Sometimes the parking gods are not oñ my side. I alwaze get there, but somètimes I àm a little late. I missed Greg play the squeeze box. Î do dig that. These boys are mostly an offshoot of the mothership that is Grupo Fantasma. Fantasma, just shook this very room for two consecutive nights, for the prince tributes. That did not slow them down . They finished off their uniquely psychadelic, cumbia from space set, which had everybody moving. You cannot resist this groove. Why would you want to?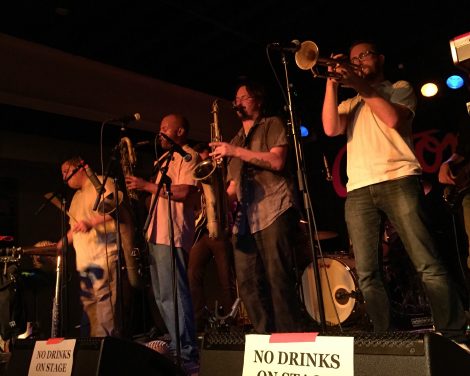 Next up was HardProof. These guys grab you at the first note and do not let up. The amount of solid musicians on that stage is overwhelming. I try to focus on individual players when I see music, but with these guys everything works at the same time. Everybody just plays off of everyone else. It is magically captivating and seamless. They must rehearse all the time. I know that cannot be the case because most of the guys are in ôther bands. It just works. They have a new record coming out soon. If it captures even a small bit of the show at Antone's, it's gonna be huge. Go get a copy and see them live. Trust me. For years I have watched this band take leaps forward, to the point, that I try to never miss a local show. These guys have found a way to step up their game with this new material .
In this article