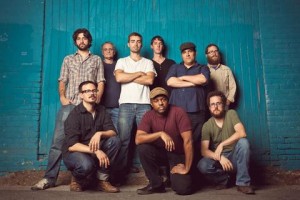 AD: Can you tell us about out Hard Proof came together?
JF: A few of the guys working a jazz brunch about 4 or 5 years ago had the idea to start an Afrobeat band, so they (Joseph Woullard, Stephen Bidwell, Michael Faircloth, the original keyboard player, and Derek Phelps) started reaching out and putting together a band that ended up being Hard Proof, which has been together 3 – 3 ½ years now. So we kinda just started on "Hey, wouldn't be fun if we had this thing" and then it kind of turned into some of our favorite projects. At this point, the joke is that this is all of our favorite side projects… Most of the guys in the band have other bands that they're into pretty heavy so it's still a treat for all of us to get together and play our music.
AD: Can you tell us about some of your influences?
JF: The main influence is Afrobeat, the genre in general, but of course, Fela Kuti, a Nigerian musician who is credited, along with Tony Allen, with creating the genre of Afrobeat. It was their response to 1970's African American funk music, so they were taking James Brown, Parliament and those guys and injecting African instruments and incorporating African rhythm and the African song form. Then the original funk guys in America, like James Brown, pulling from Afro influences and creating funk music, and African musicians pulling from those funk musicians to create Afrobeat, which was also coming from Highlife, Ghanaian and Nigerian popular music. That's our central influence. We're an instrumental band so we kind of get some flack from certain people for not having vocals and calling ourselves Afrobeat, but we just consider that our main influence, along with other things. A lot of the guys in HP have been jazz players, a couple of the guys play in post-rock bands, that and more indie rock stuff.  Influences like hip hop and other modern music we try to fuse together, and take Afrobeat as our starting spot, then we kind of branch it off from there and let our individual influences also come through, which I think is nice and refreshing. We are not trying to recreate a style of music that was formed in the 70s and 80s, we're trying to take that as our starting point and make something of our own.
AD: Have you ever gotten to play with any of the original Afrobeat guys or Fela Kuti?
JF: I haven't, Fela died in 1997, but he has two sons Femi Kati and Seun Kuti, who are both phenomenal musicians who've really done a great job carrying on their father's music, and making sure people get to hear it. We haven't gotten to play with any of those guys yet, but that is a goal for all of us.
AD: So you guys are basically the leaders of the Afrobeat scene in Austin, what do you think of that title?
JF: That title? Well, I guess we're the only band that really says straight up that Afrobeat is our main influence, but really there's a lot of bands, or at least a good handful, that have Afrobeat as one of their main influences. Without dropping a bunch of names, they're all fantastic bands and they're making good music. Really, when it comes down to it, the most important thing for us is creating an atmosphere where people feel open and creative, able to express themselves in whatever way they like and to really just come together and have a good time. We try to just create a moment of joy that people can share together, that's really our main focus. So to be called best, or worst, or whatever, that's really up to the listener to call it based on their own preferences. We're just happy to see more people taking that style of music and using it in a more modern context.
AD: It seems like that scene is kind of exploding now, what role do you think you guys played in that?
JF: Uh, probably very little, haha. There's a lot of other things, other factors… like the musical "Fela" that played on Broadway. That really got the genre out to a lot more people. A lot of people didn't even know there was something called Afrobeat, and there still are a lot of people who don't. It's kind of one of the genres that if you're not in the know, you wouldn't know about it. The musical "Fela" and having people like Jay Z and Will Smith produce that. Having big names in the music industry,  I think that played a big part in introducing Afrobeat into the consciousness of the whole. Locally, People like Martin Perna who plays with Ocote soul sounds in Austin, he was one of the founders of a group called Antibalas in New York City in the 90's, they are really revitalizing Afrobeat in America. They're one of the first bands that I heard, based in the United States, making Afrobeat music. I knew their music better than Fela's when I  first got hip to it. So by him moving to Austin and working with Adrien Quesada and  OcoteSoul Sounds,  I think that had a lot to do with Afrobeat "breaking out" in Austin. I guess bands like ours, who are just continuously playing and getting better and bringing in more people…It's kind of been a real collaborative thing. I think we're doing a good job with Hard Proof of getting it out, turning people on to the music…I hope, but I don't think we can take too much credit in the community around us or anything like that.
AD: Is everybody in the band as modest as you, Jason?
JF: I can only speak for myself right now.
AD: So, what do you guys want to add to or bring to the genre?
JF: That's a good question. So for us, as an instrumental group, what Afrobeat has been historically is a very politically charged music. Part of the way that was brought across was through the lyrics. Fela Kuti used his music as a political tool to educate people, to inspire people, to activate people. So what we're trying to as an instrumental band is to capture that spirit without necessarily having someone as a singer up there. We're trying to capture the main spirit of Afrobeat in an instrumental context, which allows us to stretch out into more solos and things. A lot of the guys come from jazz backgrounds and so by allowing the instruments to be the voice of the band it kind of stretches it out a little bit and allows people to explore on their instrument. We just got into the studio and that's always a good thing. There's been a lot of great bands that put out albums over the last 10 years that really have that retro, 1970's classic Afrobeat  sound. We're gonna try to not necessarily have that with our next release. It'll be something that tries to pull more from bands that are  pushing the envelope in their own genres. So we're going to try to take from that and put it into an instrumental Afrobeat context.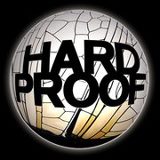 AD: Tell us what it's like to record with a 9 piece band?
JF: It's really fun, we haven't had too many opportunities to record completely live, meaning that all 9 or 10 of us are playing at the same time, which I would love to do at some point. So what it comes down to is rhythm section cutting their parts and adding on top of that. It ends up being a layering process. People can come in and add stuff on top. It's really fun. It's a lot of fun just watching songs come together like that. A lot of new things will happen because of that, where as if you're playing live it's going to be exactly how you perform it. When you're allowing yourself to do layers and come back and add parts you can kind of keep arranging the song as it's being recorded. That's pretty exciting and fun.
AD: So, did y'all drop the Afrobeat from your name? It's no longer Hard Proof Afrobeat?
JF: Yeah, that was kind of something we decided would be a good idea. We didn't really know of a lot of other bands that were called names like "Aerosmith Rock", you know what I mean?
AD: Hahaha!
JF: I think it was important for us to take that (name) initially when we were first performing because it drew some attention to the band as that's what we're trying to do, that's what what we wanted to create, that's the vibe we wanna set, that's the precedent. We're fine with people still calling us Hard Proof Afrobeat, but we're just calling ourselves Hard Proof at this point. A lot of Afrobeat ensembles have done that, it's like "such and such Afrobeat ensemble" or "such and such Afrobeat orchestra", but really they just go by "such and such".
AD: What's special to you about playing music in Austin?
JF: Well, I'm not from Austin, I moved down to Austin because of it's reputation over 9 years ago, so it's definitely home now. It's similar I would say to  New Orleans, where you can actually feel the vibe in the air. you can go anywhere in the world and come back and be happy to be in Austin. It's just one of the places that doesn't have a lot of pretentiousness, it's pretty inclusive, as opposed to some cities where the music scene is exclusive. I feel that most musicians that I've had the opportunity to work with, or just meet, have been really nurturing and encouraging. That's not to say they won't tell you that your shit doesn't stink if it does, but that's alright, that's different than being jerk about it. The whole way I got into Hard Proof, I hadn't seen Joe Woullard in years, I met him shortly after I moved to Austin and hadn't seen him for a while, but I was at a party of a mutual friend and he was there and he was like "Hey, we're starting this little Afrobeat project, you should come out to a rehearsal." So that's a little microcosm of how Austin works. Like, you're just somewhere and then bam! The three horns in Hard Proof, Derek Phelps on Trumpet and Joseph Woullard on Bari, also play in Black Joe Lewis, and that whole thing came about because our original keyboard player wanted to get into Black Joe Lewis. So one of the guys from Black Joe Lewis came out to see Hard Proof play and we were playing at a grocery store man, up at Central Market, and he ended up talking to us, the horns, to see if we wanted to do some shows. Unfortunately our keyboard player Mike didn't get the gig, we like to tease him about that, but he's opened up a successful wine shop in Brooklyn, Vinyl Wine Shop, so he's happy. But it's really funny telling that story because people ask "Oh, how did you get in that band" and we're like, "Well, we were playing at a grocery store…"
AD: Definitely only in Austin!
JF: Yeah, exactly, that's just kind of what it means to be in Austin. People value music, people value entertainment, people support that. It's not just music. The art scene has really grown in Austin since I've been here, the theater, the comedy. The stand up and improv scenes are getting national recognition at this point. I think that Austin has a really nice and nurturing environment, a really supportive environment, but on the other side, it's so comfortable we kind of get that slacker vibe. It's so easy, people call it a retirement home for thirty year olds, but just as much as that happens here, there's just as much creative, really exciting stuff going on.
AD: So what made you decide to pick up the sax?
JF: I started playing saxophone in sixth grade, I think I was eleven.  I tried trumpet and I just couldn't make any sound on it. My Grandma suggested I play the saxophone. She's a big fan of big band, jazz and stuff, she really pushed me there. I probably stayed with it because of people like her and my Grandfather. He always played piano with me while I played saxophone growing up. So I had a lot of help growing up. My whole family, Mother and Father included, were always very supportive of me playing saxophone and always encouraged it and pushed me. It took me through college, got me down to Austin, and around the world…it's been great!
AD: So, you've come a long way from Collect All Five what do you take from that experience that you bring to Hard Proof?
JF: That was really the first band I was in in Austin, and such a great group of guys and diverse musicians. We all lived together, played together, helped each other. Just learning the topics of being in a band and how to make it work. What works, what doesn't. It's just sort of like anything you do the first time. You go into something blindly and you learn how to make it work. That band was the first band I got to tour with. We toured the whole country and we just made that happen on our own,  no label no corporate support, so it was a lot of a do it yourself experience. You want to get something done? Make it happen. Learning those kinds of things with Collect All Five (Unified Feel Theory) and then taking that to Hard Proof was similar. We're gonna start doing this!  We burnt our first CD with like four tracks, we stamped all of them ourselves, we made the covers, we printed our own t-shirts, just doing it like that. "We need this done, so let's just do it together." So those kind of things are what I took from Collect All Five, and I've just carried that on into everything I'm doing.
AD: Are you still playing with Black Joe Lewis? How's that influenced you as a musician?
JF: That's been tremendous, really learning about new music and musicians I wasn't familiar with and just being able to do things on such a larger scale than I've ever done before. For myself, after playing for so long and never really having an opportunity to fully make a living from what I love doing, until the past few years, kind of started to wear on me mentally. And then being in the band and having the opportunity to travel and play in front of lots of people, and on a nightly basis, it's helped become a stronger player and a more confident player. Getting to play so often has really just encouraged myself and then other people. I come back to Austin and guys are excited for us that we've gotten to do things, and then they step it up too. It's something I like about Austin, whenever I hear about bands from our city doing well, it totally raises the stock value of everyone making music here. The more people that are doing well from and in Austin, the more people wanna do well in Austin. And the more you get outside of Austin, and people hear you're from Austin, they're like "Wow, that's a great music scene". It's kind of one of those things, it's just kind of a perpetual circle of encouragement.
AD: Has Hard Proof been able to tour internationally and do you guys have any plans to play in Africa?
JF: Well, that would be amazing. That's the goal, to someday maybe go play at The Shrine in Nigeria. It's been moved probably 3 or 4 times at this point, it's the club that Fela played at every night, it was his club. They've reopened it up, but it keeps being shut down by the government over there, but that's another story. We would love to, we're trying to hook up with some promoters who can get us into Europe. A lot of ex-pats from Africa end up in some European countries, so there's actually a pretty vibrant Afrobeat and Afrofunk scene in Europe, so we're trying to get over there. Our main thing right now though is just doing Central Texas and the region and building up support in the area. We're trying to get into some festivals and just really push it out. Like I said earlier, most of the guys in the band are pretty busy with other bands, so it's been a really slow development for the band. But I think that's been such a good thing for us, it's really allowed us to cut our teeth and hone in and sharpen up the songs, the writing, and the playing just keeps getting better and better. It's a long process, but by the time we make it out to the national and international scenes there's no stopping us at that point. I think we'll be doing great. At that point, I hope to have opportunities to play with some of the original Afrobeat musicians.
AD: How do you see Austin changing? What do you think about the changes? Positive changes?
JF: I guess there are some things that have changed, but I moved here 9 years ago so I guess I'm part of the change. I should preface whatever I have to say with "I moved here too". So, I can't be totally against things changing, because I was involved in that as well.  I was a little concerned when I heard that clubs like Emo's and Beauty Bar were moving from the Red River district because of the rezoning for the river walk thing they're doing down there. And seeing condos go up across from venues like Club DeVille and the Mohawk,  which I think is one of our best venues in town, and I'm just concerned about how that's going to change the musical environment. So much of what Austin bases its public image around is music, so you really don't want to strangle that and keep it from growing, so I'm concerned about that. I do think people are fighting the good fight…New high rises downtown, and people moving in all the time, that is just part of a city's life and the growth and that anything that is concerning, we just need to keep addressing and voicing our concerns and bringing them to the city council. Really, not becoming complacent and letting things change around us without saying anything about it, that's the most important thing. When we see things starting to change that we don't like, being vocal about that is important, with any issue.
AD: So, no plans to buy a condo on Red River?
JF: I've got 4 already, are you kidding?!! Hahaha.
AD: It's going to be hotter than shit when this issue comes out, so we're asking everybody what their favorite swimming hole is in Austin and why?
JF: That's a great question! Oh man, well, I can't say it's my favorite, but I've been going to Deep Eddy lately just to do laps. I realized the tremendous effect of exercise by swimming and just doing laps, so I've been going down there. I like Jacob's Well for sentimental reasons, I just went out to Hamilton Pool and it's just beautiful out there! Krause Springs is magical, but I'll have to go with Barton Springs.  I came down to Austin from Indiana the very first year they had the Austin City Limits music festival and I knew two people in Austin who brought us to the springs before we went to the festival in Zilker. It was like a group of 12 of us that came down from Indiana and none of us had swimsuits, we all went swimming in our underwear and nobody even batted an eye at us, it was no big deal. Then we went to the festival and I said to myself "I am gonna move down here!" and I moved down that next January. You know, so I guess Barton Springs kinda solidified my move down here, so I'll have to go with that.
AD: Thanks so much, Jason.
JF: Oh yeah, no problem! I love the Daze and I'm looking forward to seeing it! Thank You!
In this article