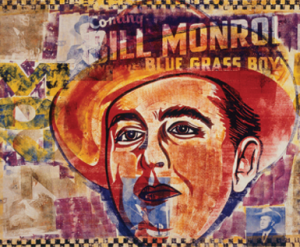 Thank you Austin Museum of Art for being an enabler to my addiction of collecting music posters. Years ago I realized the only way to find room for all my posters was to use them like wallpaper – side by side covering the walls and ceiling – so I kicked the poster habit. Two favorites were framed and hung on the wall, the rest were put in storage, where they sit tempting me to sell them on eBay. Now the Austin Museum of Art has gone and made poster art legitimate by hanging a hundred years of it in their gallery. Hear that sound? That's me falling off the poster abstinence wagon.
AMOA's current exhibition American Letterpress: The Art of Hatch Show Print showcases the hand made poster tradition of Hatch Show Print in Nashville, TN. Austin is a town with many traditions to be proud of, but few, if any, Austin traditions go back to 1879, the year Hatch Show Print opened. For 130 years, the Hatch print shop has made fine posters using letterpress printing. The exhibition explains the letterpress process, which starts by hand carving images onto wood blocks. These blocks are then pressed onto paper with ink, the result is a poster with the printed image. Hatch Show Print uses the same letter blocks used to print posters generations ago. The "B" used to print a new Beastie Boys poster can be the same "B" used for a Bill Monroe poster in the 40s.
If it can be printed, then Hatch Show Print has done it. Starting with ads for milk companies and sausage products, they also printed ads for fairs and minstrel shows. When minstrel shows died out, poster business picked up again with a young new radio show called the Grand Ole Opry. In the 50s, Hatch Show Print found another new market in young rock-n-rollers like Elvis Presley. In latter days, competing against new technology made times tough for Hatch, but they managed to survive the rocky years. Over the past 15 years, the letterpress and woodblock poster art form has come back in style with the "old is new" culture. Hatch Show Print now enjoys more demand than ever.
Over 100 posters are in the exhibit. Wanna go way back in time? Try Duke Ellington, Louis Armstrong, Ernest Tubb, Roy Acuff, or Elvis Presley at a State Fair in Tupelo. Wanna see the current new revival of Hatch prints? Beck, Wilco, Pearl Jam, My Morning Jacket all have new creative designs using those same old letter blocks. Then there's the new and really creative "monoprints". The monoprint name comes from the uniqueness of each print, no two are alike. The monoprints are Hatch Fusion, using many colors and multiple old images printed on top of each other to completely cover the paper in ink. And for those poster collectors wanting to take one home? Two exhibit prints are on sale (for $12 each). Each one is hand made in the Hatch Print Show shop, the same way it's been done for years.
 
American Letterpress: The Art of Hatch Show Print is on view at the downtown Austin Museum of Art until May 9th.
A related exhibit, the 2010 SXSW Film Poster Show will be on view March 12-14.
Image Credit: Smithsonian Institution
In this article