EDITORS NOTE: Hello there Daze Readers!  We have some new stuff happening over here.  I'm excited to introduce my Seattle friend, Mary, who will be writing about music happening in Seattle and around the Northwest.  Since SXSW makes Austin the center of all thing music, and the Seattle and Portland areas are big contributors to the music scene, this is an awesome way to gain some more perspective.  Not coincidentally, I lived in Seattle for quite a few years and am happy to bring the connection full circle.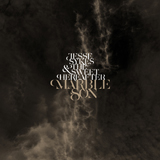 I couldn't resist the opportunity to feature beloved Seattle artists, Jesse Sykes and the Sweet Hereafter, and their entrancing track "Come to Mary," off the band's new disc Marble Son.  (After all, look who's writing this post!)  With its somber, longing vocals, soulful melody, and dreamy psychedelic sound, I find myself humming the tune throughout the day.
This amazing new CD takes the band in a heavier and more psych-rock direction than the alt-country leanings of their previous recordings.  Sykes and guitarist Phil Wandscher co-wrote and co-produced Marble Son, infusing the album with dark, driving guitars to complement Sykes' mesmerizing vocals.  After giving "Come to Mary" a listen, don't be surprised if you are compelled to seek out the entire album.  I hope enjoy this as much as I do!
"Come to Mary" by Jesse Sykes and the Sweet Hereafter
In this article