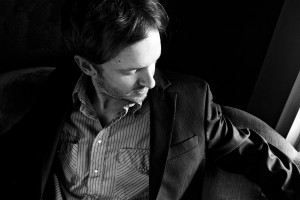 I confess to being a Champ junkie. During the 90's, that had me at Threadgill's North watching the legendary Supper Sessions on Wednesday nights. It was one of those Wednesday nights when I first caught James Hyland, playing a few songs during the break. This would have been around 99. James sat in the middle, donning a feed cap and t-shirt–Warren Hood on his left and a skinny dread-headed Willie Pipkin to his right.
James releases his latest album, Celestial Navigation, at Threadgill's South tonight, so I sat down with him for a quick interview.
Daze – What do you remember about playing between Champ's sets at Threadgills' North?
JH – "Being scared to death. Champ's fans graciously tolerated us. Those guys (Champ's band) really were some of the best musicians in the world, and the folks that went week after week to watch them knew it too. They were our heroes too, Champ and Marvin played a pivotal role in our careers. They still to this day are our heroes. Playing between their sets was nerve racking because guys like Ray Wylie Hubbard would be in the crowd, and you didn't want to disappoint."
Daze – It feels like you are a million miles down the road from that experience, yet somehow wearing the same clothes. How do you think the familiar thread of contributors and influences shape this new album?
JH – "When I write songs, I think 'What would Walter (Hyatt) or Champ think of this?' I imagine that I demo the songs for them and if I am confident enough to play it for them, then it's probably good enough for the stage."
Daze – Speaking of familiar contributors, long time fans of the Austin music scene will recognize the producer on this album. How do you know Stephen Doster, and what was it like to work with Stephen and engineer James Stevens at East Austin Recording Studios?
JH – "I first met Stephen when I worked at a convenience store in his neighborhood. I was only 19 and didn't play guitar yet. It's surreal to have worked on an album with him. I used to cook pizzas for his family. The first song I ever wrote was based on him and Champ Hood. It's called Hill Country Nights, and its about these guys who are some of the best guitar players in the world, who could be playing with the biggest acts in show business, but chose to stay in Austin and be with their families. I had Doster play the guitar solo on this song on my first record and I didn't get to work with him for another 10 years. When I decided to make this new record he was the first producer that came to mind. We had both wanted to work together for a long time, and when this opportunity came along, I knew he was the man for the job. He is still one of the finest human beings I have ever met. A truly righteous man."
Daze – Warren Hood opens the show tonight, and your band is chalk full of familiar faces. Coincidence? Or are you coming full circle as you lead "the new old school" down the next million miles?
JH – "The guys I play and record with are not just some of my best friends, but I feel they are the best musicians around. Their styles have always been a part of my sound. And when I get ready to record, I can't imagine asking anybody other than them to play on it. Their confidence in me is a big motivator. We are all fans of one another's talents and when we play together, the comradery takes the music to another level that nobody could take it to on their own."
The comradery they'll take to the stage tonight is built on a decade plus of inter-connected bands crisscrossing America in planes and vans. There were plenty of promises like Best New Band at Telluride in 2003, and lots of bumps like broken neck guitars in the age old game of airline roulette. The new CD is the leap forward to the next round of travelling shows. Bon Voyage…
Out takes
pre question) Does Barack Obama really play electric change with the Joint Chiefs?
post question) Did John McCain take his fiddle down to Georgia?
JH – "John McCain lost his fiddle job to Flat Stanley. The guys just like Flat better than John; we still laugh at John's pick of Palin. I gotta admit it was all my idea, I thought she was hot. John shouldn't listen to me when I've been drinking…"
The Joint Chiefs
James Hyland – vocals and acoustic guitar
Kim Deschamps – pedal steel guitar
Willie Pipkin – electric guitar
Matt Mefford – Dave Mufftin Upright bass
Robbie Kidd – drums and percussion
Flat Stanley – utility man
Barack Obama – Electric change
John McCain – Fiddle
In this article