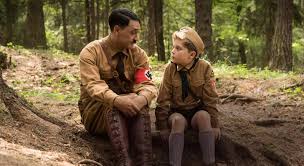 Kicking off Fantastic Fest this year, the crowd was graced by Taika Waititi's new film, Jojo Rabbit, a satirical depiction of Nazi frenzied Germany during WWII. In attendance with actor Stephen Merchant, (Logan, The Office) Waititi was definitely hopped up on goofballs for the premiere. He's a true lunatic, walking off stage carrying the mic stand with him and constantly moving around like he was being mildly prodded with a taser.
Jojo Rabbit is seen through the eyes of a 10-year-old boy, Jojo Beltzer (Roman Griffin Davis). Jojo is the poster-child for Hitler youth and wants nothing more than to join up with the Third Reich and defend his Country with the guidance and counsel form his imaginary friend, Adolph Hitler (played by Waititi himself). Being conjured by a 10 year old, Waititi plays Hitler the only way he should be portrayed, as a total buffoon.
The title scene really sets the stage for Jojo Rabbit with The Beatles,"I want to hold your hand" playing in German, to the backdrop of Nuremberg propaganda rallies and little Jojo running down the streets yelling "Heil Hitler". Followed by an outing at a Hitler Youth Camp (think Moonrise Kingdom Nazi-fied) run by the ragtag team of C-List soldier flunkees (Sam Rockwell, Rebel Wilson, & the precious Alfie Allen). Book burning bonfires are subbed for campfires and S'mores roasting. Jojo gets sent to the hospital and eventually home after nearly blowing himself up with a German Stick Grenade to find that his mother, Rosie (Scarlett Johannson), is hiding a Jewish girl, Elsa (Thomasom McKenzie) in their home. Jojo has to contend with his love for The fuhrer and Germany and his own humanity that's just dormant and waiting to come back out.
The film is nicely shaped with comedic moments that don't overshadow the touching or dark tones that are clearly present. Like the fact that the characters are in the middle of a war and the paranoia and calamity are unavoidable. Scarlett Johannson surprises with her acting chops in one particular scene where she oscillates between pantomiming as Jojo's rough around the edges father who is supposedly fighting the Nazi cause outside of Germany and back to his charming and loving mom again.
I would have only asked that the film go a little edgier or darker than it did considering the material and the fact that Adolph Hitler and his Nazi's were possibly the worst kind of parasites to ever grace this planet. More conviction to the darkness, maybe somewhere in between Inglorious Basterds (2009) and The Producers (1967).
In this article