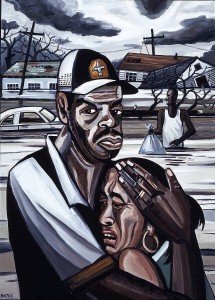 David Bates since 1982: From the Everyday to the Epic
 David Bates, a Texan by birth and still a Texan by choice, makes art. In a way, Bates' art is like the city of New Orleans: both can mean different things to different people. You may find it modern, yet others like the folksy charm, some enjoy its natural beauty, while others are drawn to its human emotions. Bates' art is shown in New Orleans a lot, so much that I assumed he was from Louisiana at first. For New Orleans, a place rich in local culture, to welcome a foreigner like Bates into their museums and galleries speaks highly of the man's work. Accolades also come from his home state, as seen in the Austin Museum of Art's exhibition David Bates Since 1982: From the Everyday to the Epic. AMOA's downtown gallery is filled with the different sides of Bates: folk art renderings of musicians, landscapes of nature preserves, still life magnolia blossoms, and cubist forms of cigarettes and Corona bottles. Bates' brushstrokes have a signature style, and the same unique angular lines he puts down on canvas show up in his sculptures. In The Woodsman, Bates paints a life-size five-foot tall woodpile, no two logs alike, each one painted with subtle differences in color and pattern. The relationship between Bates and New Orleans comes as no surprise; the city is a famous haven for roots music, and Bates exalts this music on canvas via the imagery of musicians Clifton Chenier and Lightning Hopkins. People are the soul of any city, and Bates' work shows a connection with the people of New Orleans. In the Katrina aftermath, Bates painted flooded landscapes and the faces of the citizens deluged by the federal levee failure. This recent Katrina series is worth seeking out. The AMOA exhibition is a sure bet, and the Ogden Museum of Southern Art in New Orleans has Bates on view in their permanent collection. The Ogden features The Storm, a series of three large panels, each one filled with a dozen life-size faces of flood survivors.

A growing and welcome trend among Austin museums is to screen films that tie in with their art exhibitions. The Austin Museum of Art recently hosted a screening of the documentary Trouble the Water. A story of two Katrina survivors, it ties in nicely with the paintings of Katrina survivors. The film won the Grand Jury Prize at Sundance, and comes recommended from none other than David Bates himself.  AMOA arranged for cinematographer PJ Raval and real life evacuee Daisy Warren to attend the sold-out screening as special guests for a Q&A session afterwards. Film and art mixed together and served up to Austinites will sell out a theater? Seems like a no-brainer.
 
Trouble the Water
 
By now everyone knows the story; hurricanes over the past five years punished the Gulf Coast from Mobile to Galveston and everything between. Different hurricanes hit different places, but each community shared the same shock of devastation. From the casino towns of the Mississippi coast, to the fishing villages of southwest Louisiana, to the Crystal Beach getaways of Texas; the residents of each place also share in feeling abandoned and forgotten in their recovery. Life goes on, with or without them, and the ones that pick up and start over again are inspiring in their resilience. The recovering husband and wife in the documentary Trouble the Water are no exception. Often called a "Katrina documentary", the label is a bit off the mark for this character driven story. Katrina's effect on the region is too much for one film; a story too big to tell even if it focused on just one state, one city, or even one neighborhood. Trouble the Water narrows the epic focus down to the story of two people, Scott and Kimberly Roberts, and their survival in New Orleans' Ninth Ward.
Survival for Scott and Kimberly begins long before Katrina.  Kimberly lost her mother at a young age, and Scott has a knife scar across his cheek that makes you wonder what he's been through. By their own words, the couple are streetwise hustlers, known to sell dope here and there. Don't dwell on their flaws too long, great stories have flawed heroes. Life takes everything away from the Roberts during the flood; then life offers a shot at redemption. In times of distress a person's true character is shown, and the Roberts rise up above everything life has thrown at them. The couple help save others from the flood, help them find shelter, help evacuate upstate, and help keep others sane in their recovery. By the end of Trouble the Water, Kimberly learns a lot about herself.  After receiving praise for helping fellow evacuees, Kimberly realizes that people can see her in a good way. This new view of herself helps Kimberly change her life around. Scott also changes, taking a steady job rebuilding houses, and happy to make a difference by rebuilding the city. 
Trouble the Water begins with Scott and Kimberly in a evacuee shelter. The first framed shot of the hustler couple says a lot with few words. Scott at first appears not used to being on camera, but speaks confidently. Kimberly has her hand on Scott's shoulder; they've lost everything, but they are strong and strong together. A light in their eyes hints of a big heart, and both smile as they say "New Orleans Ninth Ward". Behind the smile you see a touch of weariness and emotional bewilderment, and when Scott continues saying "underwater", the smile fades, the upper lip stiffens up. It's those little touches that win actors Oscars, but this is real footage of real people and real emotions.
The best video footage in Trouble the Water comes from Kimberly, an aspiring rap artist with creative raw talent that compels her to film Katrina. Armed with her video camera, and a sense of the changes to come, Kimberly sets out to film her world as seen before, during, and after Katrina. We've all seen chopped up news clips of the New Orleans flood, but it's this continuous view of before and after that makes Trouble the Water so unique. The day before the levee failure, Kimberly's TV is blaring Weather Channel storm warnings. Everyone is afraid, even the dogs are scared, nervously running around in circles wagging their tails. The front door opens to see army trucks and heavy traffic roaring down the street. People are running red lights to get out of town, away from the looming apocalypse. With no wheels to leave, and no public transportation organized by Mayor Ray Nagin, the Roberts will ride out the storm at home. Kimberly walks to the store for supplies, filming the last hours that exist of Old New Orleans. Everything filmed will soon be underwater. Kimberly talks and laughs with neighbors, friends, and her uncle. We know their fate, even if they don't, and wonder if they all make it out alive. The wind picks up, thunder cracks, rain drops fall. Kimberly prays, her private moment recorded on tape: "Lord please protect me and my family, cause people are gonna die out here man."  The next morning, still dark and without power, Katrina has passed, but the federal levees are failing. Water covers the street, rising up to porch level. As you read this, look at the floor and picture water rolling into the room, because that's what happened next. Sloshing through knee-deep water, the Roberts escape from the rising water to their attic. From the attic windows, the camera captures waves breaking against neighbors houses. They are devastated, but live to fight another round.
The next rounds in the fight for survival include swimming and boating with neighbors to safe higher ground, and finding a way to evacuate upstate to a place with food and shelter. Scott and Kimberly, along with a new evacuee friend they've taken in, return home two weeks later. Surveying the destruction, it doesn't look real to them, like a horror movie. Army trucks rumble down mud covered streets past rows of flattened houses; packs of dogs run around wrecked boats lying sideways in yards; the neighbor's dog Brownie lies decomposing in the street. Things brighten up briefly when Kimberly finds a picture of her mother. From rock bottom, the only way left to go is up, and the road to recovery and redemption begins.
When the levees crumbled like a broken promise, the result was a man made disaster, not a natural disaster. It was we the people responsible for the faulty underfunded levees, the human error of not organizing public transportation to evacuate, and the incompetent leadership of government. These all became political issues; but really it was a human issue much more important than politics. Trouble the Water covers these human issues, but the film doesn't become weighted down by them, thanks to the incredible story and charismatic characters. Required viewing for all.
 
David Bates since 1982: From the Everyday to the Epic is on display at the Austin Museum of Art through January 31st.
 The Storm by David Bates is in the permanent collection of the Ogden Museum of Southern Art in New Orleans.
 
Trouble the Water is available on DVD from your favorite video store and troublethewaterfilm.com
 
Image Credit:
David Bates, The Deluge II, 2006, Oil on canvas, 66 inches x 48 inches. Collection of Nancy A. Nasher and David J. Haemisegger
In this article