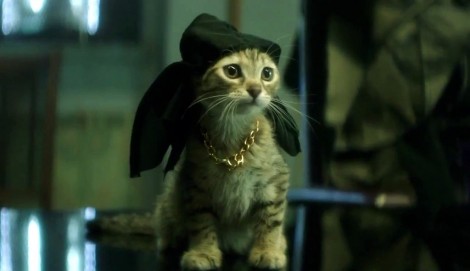 I was fortunate enough to attend the world premiere of Keanu at The Paramount Theatre. The crowd was revved up when Keegan-Michael Key and Jordan Peele hit the stage to introduce the film. Their onstage presence is unbeatable. I would have enjoyed watching them interact with the crowd all night.
Keanu, which I wrongfully assumed was blatantly about Keanu Reeves, follows an adorable kitten with the same namesake as the actor. When Keanu ends up on the doorstep of Rell (Jordan Peele) and then goes missing soon after, Rell enlists the help of his cousin, Clarence (Keegan Key), to help him find his lost feline friend. Catching wind that Keanu may have ended up in the hands of a gang (led by Method Man), the two end up infiltrating said gang (The Blips, rejects of the Bloods and the Crips gangs) and from here, these two educated or affluent black men resort to posing as gangsters toting the N word and various four letter words. Unfortunately, the played out theme of racial stereotyping take the reins for the rest of Keanu.
As a work in progress, Keanu was entertaining enough, but there were scenes that dragged on a bit. Knowing the style of Jordan Peele and Keegen-Michael Key, it's hard to tell if this is just unedited improvised takes that may be cut down in the final film, or just the style of the film which feels like a very long Key & Peele sketch comedy routine. Even as a long sketch, I feel like these two are much more capable than the confines of this script and do the best they can to work inside of it because the dynamic between these two actors shines through even on the big screen, but it isn't enough to make this movie stand out.
In this article