WOW! Cameron Mackintosh presents a brand new 25th anniversary production of Boublil & Schönberg's legendary musical. This special production of one of Broadways longest running shows "Les Miserables" was unforgettable and time-less. I continue to be impressed with all of the amazing touring Broadway shows that Austin is lucky to have.
The first time I saw this opera was in New York City in 1997. I was twelve years old and I have to admit that I watched it from the very top row of the theater. Even as a child who didn't completely comprehend the story, those powerful songs have stayed with me throughout my life. They make a deep impression on the soul that I have seldom experienced with certain soundtracks. Seeing this show as an adult was a completely different experience, although once the songs began, I was hypnotized with the power and beauty of sound and poetry. One complaint I have is that I was sad to not hear the song "Little People". They did a few edits and additions for this new touring performance.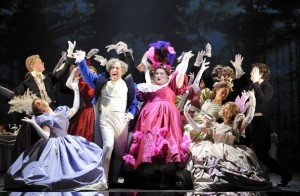 The performance was amazingly intense and ended with a standing ovation from every last audience member. I continue to be shocked and pleased with this story and all of the wonderful themes of love, honor, war, grace, forgiveness, mercy, and laughter. I encourage everyone to see this show and experience one of Broadways most heart filled Operas live on stage.
The show runs from May 29th to June 3rd, at the beautiful Bass Concert Hall in Austin. GO SEE IT!
Coming in December 2012, a new Tom Hooper (The King's Speech) directed film of "Les Miserables" starring Hugh Jackman, Russell Crowe, and Anne Hathaway! This story is just that magnificent!
Molly Davis
In this article