What a great way to kick this fest off. This film was a surprise to me. I was pretty certain that I would not dig it. It is a remake of  a   Swedish film named "LET THE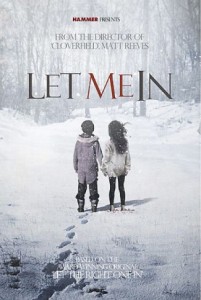 RIGHT ONE IN." A film that I liked very much. Folks that know me know that  don't care for remakes. In general, I feel that they  are a waste af  manpower, money, talent,  creativity and most of all    time.  I guess despise is a better term. There are new ideas happening  every second and yet we are  are forced to retread through old stories    because they made money and hopefully will again. Most times what happens is    we get a  shabby construct that fails to up   the original or   even meet its performance. And yet  new blossoming ideas get left unmade.
NOT THE CASE HERE!
This film takes the tale and adds to it. New subplots are added and elements are further developed. Good acting. It was directed by the fellow that directed CLOVERFIELD. So there was plenty of tension. It was well received last night at the Paramount. Day 1 down.
In this article