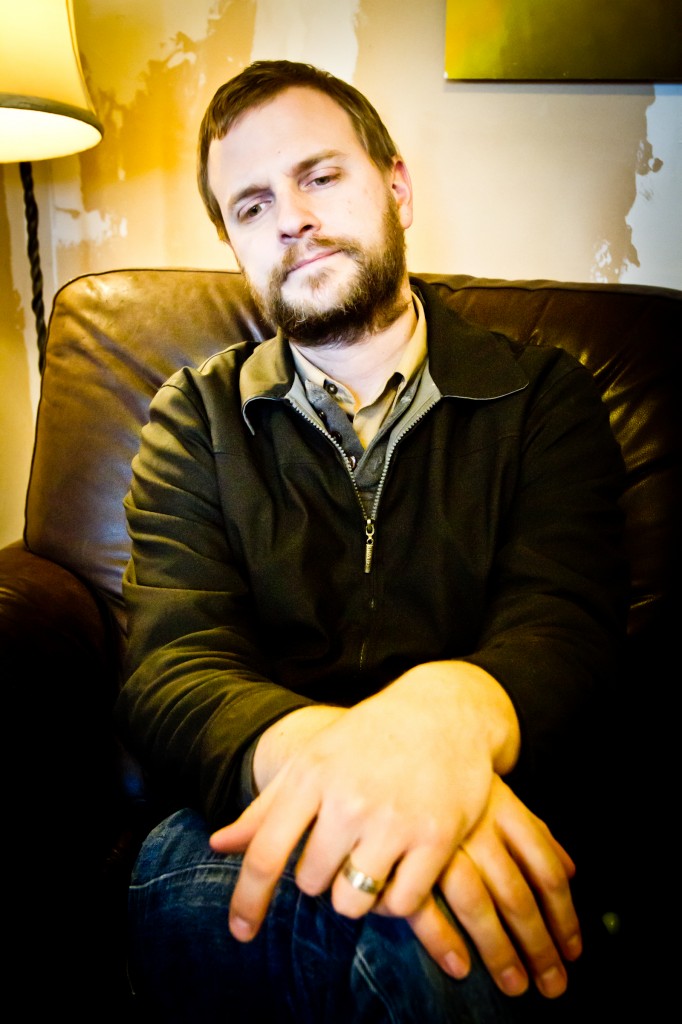 Drew Smith is releasing his latest CD, Ted Songs, at the Cactus Café this Saturday, February 5th. Show starts at 8PM. Don't miss it. In addition to the usual cast of characters—Brian Beken, Ryan Bowman, and Kyle Thompson—the one and only John Hagen, Lyle Lovett's longtime sideman, sits in on cello.
If you haven't heard Drew before, here is what Steve Almond from Boston's NPR station has to say about Drew's last album, Lonely Choir: "A pop record so pure-hearted and lush…His obvious pleasure of hooks feels both old fashioned and completely revolutionary."
Ted Songs keeps the hooks coming with twists like Squeezing Elephants. It's hard enough to fit an elephant into a song successfully, but squeezing one too? That's just crazy talk.
Drew might be a little crazy. He asked John Hagen to play cello for the CD release on Saturday; but then again, John said okay. I guess it's one thing to have a dream, and another to craft a dream into something unexpected. Drew's magic is in how far he carries the dream.
Struggling with delivering his music to fans, he came up with the idea to collect a series of songs in three CDs linked together with drawings by local artist Dave Schwab. A third CD will follow Lonely Choir and Ted Songs sometime next year.

So, why come out on Saturday? Drew's real draw is that he delivers his songs with a style and attitude that makes you a believer. If he is not wearing a suit and tie and surrounding himself with some of Austin's best players, he is wearing his heart on his sleeve and belting out lyrics with a conviction you just can't find anywhere else. Drew is one of a kind, which makes me ask why he isn't KUT's favorite son….maybe when they hear these albums.
Daze: How does the process of producing a record on tape vs. digitally influence the record you make?
Drew Smith: "With tape, there are only a certain amount of tracks that can be used. I like that because you have to be creative to stay within those confines and still record all the sounds you want to make. So if you only have three inputs available for drums, well…that is the sound of your kit for that recording and you better place those 3 mics in the right spots. You don't have the option of putting 27 mics on the drums and however many more on other instruments and infinite possibilities. You have to work with a ceiling, and I think that is what makes tape sound like tape. Of course, it is a little warmer sounding, and it is more of a romantic way to record music the way it is meant to be recorded – on tape. However, a lot of that "vibe" or mood you get from tape, I believe, comes from sounds that are created by working within the confines of the available tracks.
Digital recording has the benefit of "the sky is the limit". That is like a wonderland. Roger Greenawalt (producer of Ted Songs) had really liked the Lonely Choir record's sound, and he knew I liked natural sounding instruments, so we kept it pretty straight forward and didn't go too crazy.
In the end, I really prefer recording to tape. I will leave the digital v. tape debate up to the techies who know what they are talking about and just say that recording to tape makes me feel more like my heroes. Plus, the smell of the tape heads getting hot is pretty amazing."
Daze: Where do your melodies and lyrics come from?
Drew Smith: "Melody is the most important thing for me. I write music the same way I listen to it. Always melody first. Lyrics are always the last thing I write—almost always after arrangement, instrumentation and everything. I think for some reason I need the last minute pressure to squeeze out lyrics. Although, melody is the most important element to me, there is no denying that lyrics help the most to actually reveal the song to the listener."
Daze: Who are the songwriters you collaborate with or watch here in town?
Drew Smith: Well there's the obvious group of musicians that I play with and respect a ton in town – Jeremy Nail, Graham Wilkinson, Suzanna Choffel, Nathan Singleton, Dustin Welch….I heard some tracks that Cowboy and Indian are recording with Barrett and they were really great! I have collaborated with all of those artists on some level over time. I have gotten to play a couple shows with Ben Kweller, and he is pretty much tops. Seth Sherman is my favorite songwriter I know – he doesn't play out a ton with his personal material, but his songs make me feel things that most others don't. I totally convinced him to play at Cactus for the release though!
Daze: You grew up listening to your parent's music: folk; moved to Texas and experienced the country songwriter thing; and wound up with pop. How are you able to squeeze so many elephants into one sound?
Drew Smith: "HA! Well I am scattered for sure. Always have been and always will be. I think I just get obsessed with a certain sound and kind of study it through buying records and CDs. When I discovered Harry Nilsson, I went through a couple years of listening to everything he ever recorded over and over. Same with the Beatles. Same with Van Morrison. Same with Neil Young. Same with Townes. Same with Nick Drake. Same with Paul Simon. If I wanted to spend some time, I could probably make a chronological list of all the records I have listened to so obsessively over the years – dating back to The Housemartins in 4th grade, the third best band to ever come out of Hull (that is a reference to a poster they had)."
Daze: Your fans are having fun—how about you?
Drew Smith: There are few things better than playing your music to a receptive room. The energy is intense, selfish, and a total blast.
Daze: How do we buy your records?
Drew Smith: The normal spots…Waterloo Records in Austin, and online at iTunes, eMusic, and places like that.
In this article