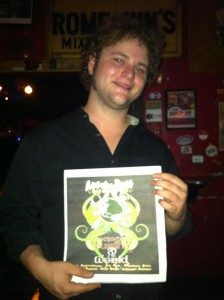 MARSHALL HOOD
Marshall Hood comes from a long line of amazing musicians, and is an   incredible singer and guitar player in his own right. He's got big shoes to fill, and he doesn't disappoint. I see him weekly with Toni Price and he's always bringing something new to the show. I never get bored of seeing him play. His great melodies really flesh out the music. He writes songs in a way that speaks so closely to my personal experience, it's uncanny. He's playing with a new band, Marshall Hood and The Bads, and I can't wait to see what they've been working on.
AustinDaze: What's it like to play music with such a loaded last name?
Marshall Hood: Ha, it's good to be a Hood. I'm really lucky to be a part of a musical family. I'm honored get to play my uncle's music, and keep that alive. It's hard work to keep up the family name!
AD: When did you start playing the guitar? Who taught you to play?
MH: Well, I got my first real guitar when I was in the third grade, and took lessons from a local guitarist from my hometown in Spartanburg SC, Randy Foster. I took lessons from him for a couple months got flustered and quit. Then the next year I took lessons from him again and quit.             I didn't pick it up again until I was about in the 7th grade, and took lessons again for about two years. Now I can't seem to put the darn thing down.
AD: What's special about the music scene in Austin to you?
MH: Austin is such a great town for music. It's a blast to play here, and just to go see music. It's everywhere. The community supports musicians and music, and that's such an awesome thing.
AD: How is playing out of town different than playing to an Austin crowd?
MH: There are definitely more dancers here in Austin. I love touring; it's really great to play for folks in areas that don't have a big music scene like Austin's. It's a different energy and experience. It's very rewarding.
AD: What do you think about how Austin treats its musicians? What do you think of HAAM and The SIMS Foundation?
MH: Austin treats musicians exceptionally well. The whole community   values what we do, and where else are organizations like The SIMS  Foundation and HAAM found? Austin is a one of a kind place.
AD: What's your favorite venue to play in town? Why?
MH: The Continental Club and Momo's. Both spots are just great clubs booking good bands, with good sound systems. They're also my hangouts too! I feel like part of the family at both places.
AD: What is your songwriting process?
MH: It's a long and laborious process. I'm always writing little parts, progressions, melodies, and phrases, they just kind of swirl around in the ol' dome for months until they are one solidified piece.
AD: You wrote the saddest song I've ever heard, "Love me like I love you." Can you tell me how you wrote that song?
MH: Ha, ummmm…well I started with a D chord…..Just kidding. I wrote it about a girl I really liked long, long ago…. Guess it wasn't quite mutual – Got several songs out of it. We're still friends…I think. HA!
AD: What other projects are you working on right now?
MH: Well I'm really excited to finally be doing my own thing, Marshall Hood and The Bads. We're finishing up a little record as we speak, and I hope to start pushing that and traveling, though I'm very daunted by the process of getting the whole thing up and running. And of course playing with Toni Price is so much fun, and an honor. Warren and I will do little shows here and there too.
AD: What is your favorite John Belushi quote?
MH: Umm, "See if you can guess what I am now."
In this article