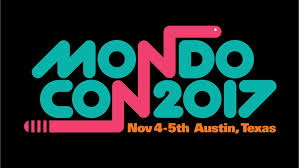 Mondocon proudly displays and embraces everything nerdy since 2014. Mondo is the merchandizing arm of Tim League's Alamo Drafthouse theater. Originally set up as a small shop inside the S. Lamar Drafthouse location, Mondo has grown and evolved into an annual convention celebrated and visited by those all around the country. Mondocon enlists the help of local and national artists to create film posters or prints for Drafthouse films, cult classic films, and even vinyl covers.
Mondocon is the forum that not only allows Mondo to introduce new merchandise to its fans, it is a place where geeks can congregate and salivate over the various artists that show up with an abundance of prints, pins, t-shirts, toys, books, and vinyl for sale. Some artists in attendance this year includes Jason Edmiston, Jock, Mike Mitchell, Dan McCarthy, JC Richard, Matt Taylor, and Kevin Tong.
Just like Mondo branching out into new realms, this year the con also branched out into a larger venue being held at the Austin Statesman building so now the panels and vendors are all in one place (previously having to walk back and forth between the Marchesa Hall and nearby Holiday Inn). Saturday things were packed and pretty damn sticky inside the old warehouse, but nobody minds because we all too busy dealing with visual sensory overload. Besides the aforementioned vendors there to sell and sign prints, there is the never-ending line filled with diehard fans with their poster tubes waiting to get their grubby mitts on the exclusive and very limited Mondo prints. There are two game tables demoing the very first Mondo board game, The Thing: Infection at Outpost 31, silent auctions for previous prints that are highly coveted, and a stage area where the panels are held. For the film nerds, there are even screenings being held later in the evening at the S. Lamar location of Alamo Drafthouse offering exclusive movie prints.
I did attend one of the few panels this year that showcased The Thing board game with the creators/designers. They discussed the timeline and process for making the game as well as the future for board games/card games that fans can look forward to for 2018.
Since I have yet to miss the annual event, I have made a few observations over the years. To me it seems that the first-year attendees probably sign up for the panels/workshops because year after year there is less variety and fewer panels. I think the folks that go each year are the compulsive and impulsive print purchasers. I spent way too much money, which is run of the mill, on prints that I will probably never frame. I'm a print hobbyist at this point I'd say and it isn't a cheap hobby, but it is glorious being surrounded by folks in the same boat that also lack self-control.
I finished the con by attending the last screening for Batman: Mask of the Phantasm Sunday evening, which I saw in the theaters when it was originally released! Seeing it on the big screen again was super nostalgic and for a hefty $60 admission ticket, I got a sweet exclusive print by Justin Erickson of Phantom City Creative.
This is one unique event I feel like all nerds should attend at least once. Looking forward to collecting more posters I won't frame next year for Mondocon 2018!