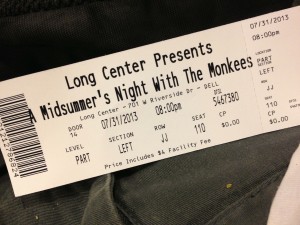 I haven't been to the Long Center in many years.   The last time I was in the room was for the Leonard Cohen shows. I was so blown away the first night that I had to make the second night happen. The accoustîcs of the room are great.  I wish they would do more concerts at this venue. It is really a great music venue.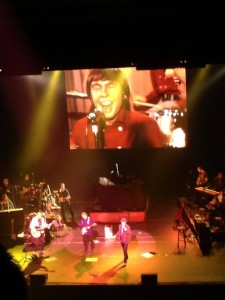 The Monkees are now the surviving three original members. I knew most of the songs by heart, as did most of the room. There were many Monkees fans  in attendance. The three belted out hit after hit under a massive screen that showed footage of the show and some great pictures of the guys in their prime. There was also a full backup bànd on stage.
I was wondering how they would swing "Daydeam Belîever" without Davy Jones. They brought up two kids to the stage and had them sing it with the audience. It was a great tribute to Davy Jones. How did those kids know all the words?
I had a great time  at  this show. Thanks to Nickelodeon, I got a heavy dose of the reruns in the late eightees. On the big screen, we were given a preview of the film     they made. I knew nothing of "Head." This film is now on my list. For sure this experience ranks up there WITH the best of the year. AND YOU  CAN TRUST ME WHEN I SAY THAT I HAVE HAD A GOOD YEAR….
In this article