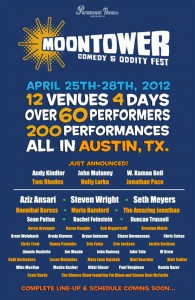 It is a hard thing to say that this town needs another festival. Every weekend there are like five different things I wanna do. I know you know what I mean. It has gotten to the point  that I rarely make plans or do research until the day of anymore (unless we are invited.)
I  need more writers!
Ok, what was I saying? Ah yes, The Moontower Fest was super fun. The organizers had this event going on in many venues all over town from Wednesdaze to Saturdaze. I attended Fridaze and Saturdaze at my film festival staple, The Paramount. I have had little experience with comedy shows. Many years ago we caught some shows at CAP CITY COMEDY CLUB and have done some random interviews with folks touring through town. Comedian interviews are always a good time. This event brought in some great comedians. I caught the Jeffery Ross Roasts Austin show first. I found out why being in the front row at a comedy  show is exciting.  I  was called out and made the butt of a joke. All in good fun. This guy is kind of an asshole on stage, I kinda thought he was gonna get flattened when he was tearing into a big volunteer.  I think  that would have gotten some cheers. Then it was Funny Or Die. I was sent this hilarious FOD video "THE LANDLORD" some time ago by  a friend. The show was not as good. Then Saturdaze brought comedic genius STEVEN WRIGHT. Good times. This was the first year and I could feel it catching on. Next year is gonna be bigger and badder.
In this article